Admission
Talented faculty. Ambitious students. Put them on a picturesque campus in the heart of Indiana where they run into each other - a lot - and you get DePauw.
Scientists rub elbows with visual artists. Math wizards with lit scholars. History majors with digital age pioneers. The combination of intellectual challenge and a wealth of social experiences prepares students for lifelong success. No liberal arts college does it better than DePauw. Welcome.
Featured Blogs
---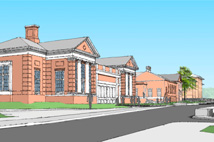 Fitness equipment is now in place at Welch Fitness Center, with opening day mere weeks away. Weight racks, free weights and kettlebells have all been...
Read More