The Ubben Lecture Series: Nobel Laureate Maria Ressa, Nov. 2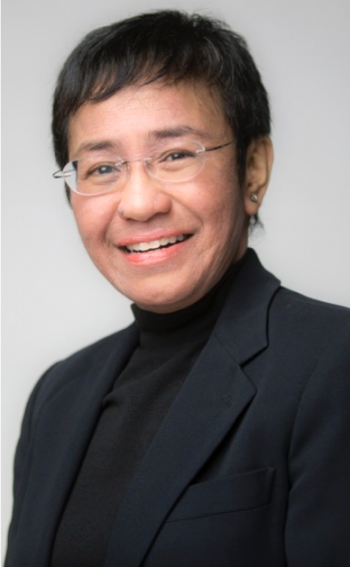 International journalist Maria Ressa, the 2021 Nobel Peace Prize winner, will deliver the Timothy and Sharon Ubben lecture at DePauw Nov. 2.
Ressa, whom Vogue magazine described as "a global personification of bravery and the battle for truth over disinformation," has spent decades challenging corruption and malfeasance in her native Philippines.
The program is scheduled for 7:30 p.m. in DePauw's Kresge Auditorium, located in the Green Center for the Performing Arts. It will be presented free of charge and is open to all. Seating will be on a first-come, first-served basis, and no tickets will be distributed.
This event is being presented in support of DePauw's work to promote freedom of expression in an academic environment. Read more here.
Ressa will be the 12th Nobel laureate and 10th winner of the Nobel Peace Prize to be welcomed to DePauw as an Ubben lecturer. The previous visitors were Malala Yousafzai, Juan Manuel Santos, Leymah Gbowee, Oscar Arias, F.W. de Klerk, Mikhail Gorbachev, Shimon Peres, Willy Brandt, Elie Wiesel, Leon Lederman and Ferid Murad, a 1958 DePauw graduate.
Born in Manila, Ressa has been a journalist in Asia for over 36 years, working as Manila bureau chief for CNN before co-founding Rappler, a digital news site that is leading the fight for press freedom in the Philippines. As Rappler's CEO, Ressa endured constant political harassment and arrests by the government of former Philippines President Rodrigo Duterte. She was convicted of cyber libel and faces the possibility of decades of imprisonment.
Ressa's DePauw visit comes a few weeks before the release of her book, "How to Stand Up to a Dictator: The Fight for Our Future," a memoir of her experiences and, according to HarperCollins Publishers, is "an examination of how the creep toward authoritarianism, in the Philippines and around the world, has been aided and abetted by social media companies." The publisher's synopsis of the book adds: "Ressa exposes how they have allowed their platforms to spread a virus of lies that infect each of us, pitting us against one another, igniting, even creating, our fears, anger, and hate, and how this has accelerated the rise of authoritarians and dictators around the world."
Ressa was the subject of the 2020 Sundance Film Festival documentary, "A Thousand Cuts." TIME named her a "Person of the Year" in 2018 and one of its "Most Influential Women of the Century." She recently co-founded The Real Facebook Oversight Board, composed of 25 academics, journalists, and activists that will rival the social media platform's own board.
Established in 1986 through the support of 1958 DePauw graduates Timothy H. and Sharon Williams Ubben, the lecture series was designed to "bring the world to Greencastle." It has presented 118 events over the past 36 years.
Whether we are writing about the intellectual challenge of our classrooms, a campus life that builds leadership, incredible faculty achievements or the seemingly endless stories of alumni success, we think DePauw has some fun stories to tell.

News media: For help with a story, contact:

Sarah Steinkamp, Vice President for Communications and Marketing and Chief of Staff.
sarahsteinkamp@depauw.edu.