The plight of asylum-seeking immigrants didn't resonate much in Madison, Wisconsin. It was 1,500 miles from the southern border. A world away.
Maggie Musgrave '11 was aware, but she was busy being a new mom, working at a new job and acclimating to a new city, where she and her husband, Andrew Pfaff '12, a recent medical school graduate, located for his anesthesia residency.
And then that devastating photo appeared last June in newspapers and on computer screens and in TV reports across the country: the lifeless bodies of Óscar Alberto Martínez Ramírez and his toddler daughter, Angie Valeria, her little arm draped on his neck, her tiny body tucked into his t-shirt. They had tried to cross the Rio Grande from Matamoros, Mexico, to Brownsville, Texas, but were swept away by the currents and drowned as his wife, the baby's mother, watched.
"She was almost Poppy's age now, actually," Musgrave said, referring to her daughter, born in April 2018. "She was 23, 24 months old. Valeria and her father, who were crossing the river back in June? They died. That was really hard for me to see that, to see that they had tried to enter the United States in a legal way and they were denied, but they were so desperate that they had to find another way, right?
"That was just heartbreaking. … To see a little girl who was, in my eyes, essentially Poppy – I see no difference between Valeria and Poppy – I just couldn't stand that anymore. I started paying a lot more attention to what was happening down there at the border after that incident.
"And so then Rachel coming along – I think it was only a week later – saying, 'hey we need more baby clothes for the families at Casa Alitas,' it was very easy for me to quickly pack up those clothes."
"To see a little girl who was, in my eyes, essentially Poppy – I see no difference between Valeria and Poppy – I just couldn't stand that anymore. I started paying a lot more attention to what was happening down there at the border ..."
Rachel Cheeseman '12 was touring Casa Alitas, a Tucson shelter for asylum-seekers just released from detention by U.S. Immigration and Customs Enforcement and the Border Patrol and awaiting transport to live with sponsors elsewhere in the country until a final decision about their asylum is rendered.
The asylum-seekers come from Guatemala, Honduras, El Salvador, Mexico and Brazil. Some are escaping extortion by violent gangs; some are targeted by drug cartels; and some, especially those from Guatemala, are indigenous people displaced from their homesteads by logging and mining companies.
"As I was there, Border Patrol showed up with 45 people and the person who was leading the tour was, like, 'I've got to go handle this,' and I was, like, all right. Somebody came up to me and said, 'Oh, my God, do you speak Spanish?' Yes. 'OK, come here.' She was one of the clinicians and I wound up doing a bunch of medical intake interviews and interpreting for them."
The doctor didn't know Cheeseman was only visiting. "She thought I was a volunteer, and I thought, well, I guess I am."
"She thought I was a volunteer, and I thought, well, I guess I am."
Cheeseman, who "had always been a little bit of a bleeding heart," had been interested in working with refugees and for a while considered joining the Peace Corps or working for the State Department. She thought she could ease in by working stateside for AmeriCorps VISTA, and she chose to locate in Phoenix for a year, then another year in Des Moines. Along the way, "I felt really strongly that it was my place to do it here. … I don't see much of a difference between the asylum-seekers at the border and the folks from Somalia and the folks from Burma."
She returned to Phoenix to work for the Arizona Community Foundation, then got a master's degree at the University of Chicago and again returned to Arizona to work until recently for United Way of Tucson and Southern Arizona, where she ran a program that provides free tax preparation and other financial services to low-income people.
In early July – coincidentally, about a week after Musgrave saw the horrific photograph – Cheeseman, who knew that her friend from DePauw had had a baby, texted her a request: Do you have any old clothes of Poppy's that you could donate to Casa Alitas?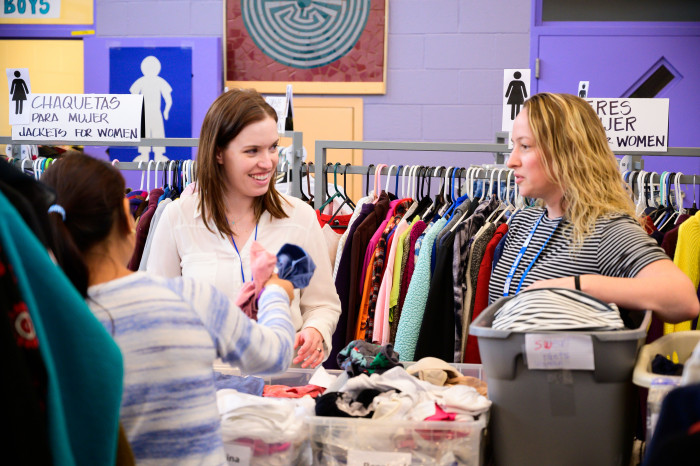 Musgrave, corporate development manager for LDI Ltd., started at DePauw with a plan to use an economics degree to run a Fortune 500 company. She chose instead to major in classical studies, "where I developed my writing skills. That's where I developed my research skills. That's where I developed my public speaking skills; all my organizational skills actually came from the classical studies department. And specifically through (professor) Pedar Foss, actually. Even though I still love economics and I love what you can do with it, I would actually say classical studies is what set me up for success after DePauw."
When Cheeseman asked about clothing, "I put together a box and I shipped it out first thing," she said, and then she posted a message on Facebook to a Madison mothers' group, asking if anybody wanted to donate for the next shipment.
The post "got shared and reshared across almost all of Madison," she said. "And it had my address in it. So within two or three days, I had 400 pounds of baby clothes sitting on my front doorstep. I was like, oh, so this probably means something. And so we realized that we could really make an impact. …
"I had no idea that there was that amount of a desire to help here in Madison. I don't know what it's like elsewhere but here in Madison I feel like the story of what's happening down there on the border or even in Tucson in particular doesn't get talked about here. It's not really a topic of conversation. I think it can be a little bit invisible, so having such a great showing of support from the Madison community really filled my heart."
She checked with Cheeseman: too much? No, her friend said; keep it coming. Until the Madison donations arrived, a mother at the shelter typically was given only one pair of pants for her child, hardly sufficient for a baby making a cross-country trip.
No longer. Musgrave has shipped – or Madison-area volunteers have delivered – more than 4,000 pounds of clothing. With the need for baby clothes fulfilled, the organization that she and Cheeseman started and have named Alitas Angels has expanded its ask to other needs: Clothing for other family members, toiletries, shoes, nail clippers, razors and lip balm.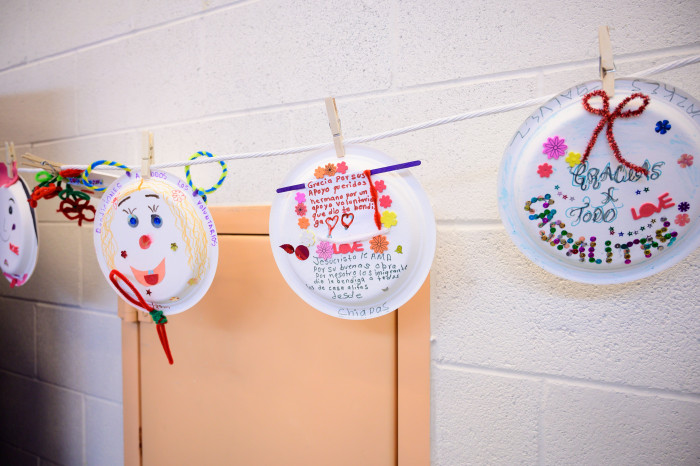 Musgrave is preparing the paperwork to make Alitas Angels a 501(c)3 nonprofit. A GoFundMe page has raised enough money to provide $1,000 to the medical team for antibiotics and diabetes medicine and $1,000 to the kitchen for fresh fruits and vegetables; an Amazon Wish List enables donors to buy items and have them shipped directly to the shelter. Neither founder expects the organization can disband any time soon; there will always be asylum-seekers, they said, and there will always be a need.
"Just knowing Maggie and the conversations that we had while we were at DePauw together, I kind of knew that if anybody was going to be, like, 'oh, how do I scale this up immediately?,' it would have been Maggie," Cheeseman said.
Musgrave said of Cheeseman: "She is a force, that's for sure. … I mean, she's the creative force and I'm more of the ticky-tacky, everyday organizational stuff. We're a good team. We're really a good team; we really balance each other out."
DePauw Magazine
Spring 2020
A GATHERING PLACE FOR STORYTELLING ABOUT DEPAUW UNIVERSITY
Whether we are writing about the intellectual challenge of our classrooms, a campus life that builds leadership, incredible faculty achievements or the seemingly endless stories of alumni success, we think DePauw has some fun stories to tell.

101 E. Seminary St.
Greencastle, IN, 46135-0037
(765) 658-4416

News and Media