Women's, Gender, and Sexuality Studies at DePauw
welcomes students of every sort to diverse and challenging courses from "Women and World Politics" to "Love and War in Medieval Art and Literature," from "Gender and Opera" to "Women and Health," from "Arab Women Writers and Filmmakers" to "Sociology of Families," from "Women and Economic Development" to "Genesis and Gender." We invite you to join us in exploring the diversity of women's experiences and contributions in the past, the changing roles of men and women today, and the difference gender makes to – well, to just about everything, once you start to look.

Choose from our ten interdisciplinary core courses and from a range of classes cross-listed with traditional areas of study: nearly every humanities, arts, and social science department at DePauw is represented. Many students begin with "Introduction to Women's Studies," or
with one of our first-year seminars, but lots of other points of entry are possible, for first-year students and others new to the field, wherever you may be in your DePauw career. And please consider our major and minor, which offer the opportunity to concentrate on an area of passionate interest while acquiring skills, and interrogating perspectives, from many different disciplines. We're proud of our students, who go on to study at fine graduate schools and pursue careers in teaching, law, medicine, business, counseling, and public service. And we're proud of our faculty – over sixty program affiliates – who think up new courses, and new angles to study, every single year.
For more information, contact Director Tamara Beauboeuf or another member of the WGSS steering committee: Meryl Altman, Rebecca Bordt, Leigh-Anne Goins, C. J. Gomolka, Susan Hahn, and Christy Holmes.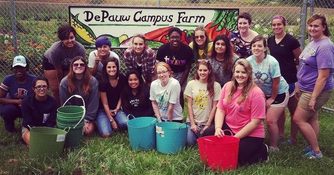 Feminist Approaches to Environmentalism visits DePauw Farm