Admission
Talented faculty. Ambitious students. Put them on a picturesque campus in the heart of Indiana where they run into each other - a lot - and you get DePauw.
Scientists rub elbows with visual artists. Math wizards with lit scholars. History majors with digital age pioneers. The combination of intellectual challenge and a wealth of social experinces prepares students for lifelong success. No liberal arts college does it better than DePauw. Welcome.
Admitted?
Join your future class mates at our admitted student open houses this spring.
Register Today
Featured Blogs
---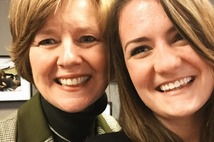 My internship with the office of Congresswoman Susan W. Brooks has ended, but my time in that office has not. I volunteered on her primary campaign way...
Read More