Financial Aid
DePauw's Financial Aid Programs help provide opportunities for bright, talented and dedicated students to attend the University.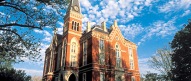 LINK TO
NET PRICE CALCULATOR...

DePauw Financial Aid Codes
FAFSA — 001792
CSS Profile — 1166

2014-15 Deadlines for
Prospective Students

FAFSA & CSS Profile*
Early Decision — January 5
Regular Decision — February 15

* DePauw Financial Aid App
may be used in place
of CSS Profile
* This deadline applies to US
Citizens only

2014-15 Deadlines for
Current Students

FAFSA
Indiana Residents — March 10
Other returning students — May 1

DePauw Financial Aid App
All returning students — May 1
These pages will assist you in understanding the financial aid and billing processes at DePauw and to help you anticipate and manage your costs. Please visit the sections for Prospective Students and Returning Students to review detailed information about the financial aid process. The Consumer Information section highlights important resources and disclosures.
Forms and Deadlines
A summary of deadlines is available under the Deadlines section.
A listing of common forms is available from the Forms section.
Ready to Assist You
The Financial Aid Office provides information and assistance to students all year, even though most students only think about financial aid once a year.

Our office is open from 8 a.m. until 4:30 p.m., Monday through Friday. To set up an appointment with our staff, call 765-658-4030.