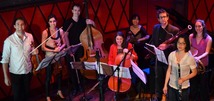 Ensemble-in-Residence
Our 2015-16 artists-in-residence, the New York-based chamber ensemble Decoda, are passionate arts advocates known for innovative performances and projects designed to engage and inspire new models for today's artists. Look forward to experiencing Decoda at DePauw on October 5–7, 2015, March 29–31 and April 14–16, 2016.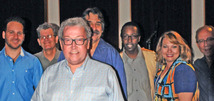 Green Guest Artist Series
The new season is off and running, and our three-day residency with A Far Cry was in a word: fantastic. As the year unfolds, we'll hear from Sweet Honey in the Rock; Judson Green & Eighth Element; ISO with soloists Caroline Shaw and Shara Worden; Danú, the best Irish band in the world--and capping it all off in April will be our resident ensemble Decoda.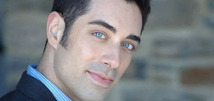 Music Alumni
Robert Maril '02 – "The education I got at DePauw not only helped me earn a master's degree from The Peabody Conservatory, it has enabled me to have an incredibly winding, exciting career."