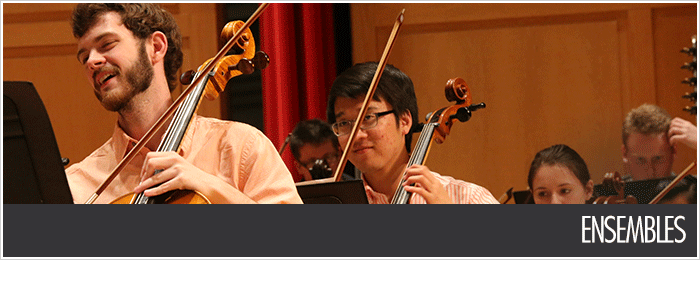 The School of Music offers a wide mix of chamber and major ensemble opportunities, as well as ensembles formed by students themselves. It is not unusual for music students to participate in more than one ensemble. Choral and instrumental ensembles are open to all students of the University through audition.
Ranging from chamber trios to major ensembles of 60 or more students, the opportunities for participation in music ensembles are varied within the School of Music. Whether you prefer to focus on intimate musical settings or large masterworks, DePauw has something to offer.
The School of Music's major ensembles present concerts throughout the academic year, including joint concerts featuring multiple ensembles. Students participate in events such as the Concerto Competition Winners' Concert, Student Conductors' Concert, Holiday Gala, master classes, and coachings.