DePauw University was founded in 1837 by the Methodist Church. Originally called Indiana Asbury University in honor of Francis Asbury, the first American bishop of the Methodist Episcopal Church, the school was envisioned by its founders to be an ecumenical institution of national stature that would be "conducted on the most liberal principles, accessible to all religious denominations, and designed for the benefit of our citizens in general."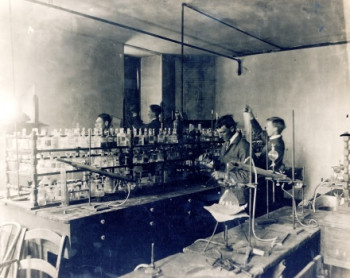 Residents of Greencastle, Ind., were so eager for the university to be located in their frontier village that they raised $25,000 – then a huge sum – to entice the founders. The Indiana General Assembly granted a charter establishing the university on Jan. 10, 1837, and the cornerstone of the first building was laid later that year.
The school began with one professor and five students. Three years later, Matthew Simpson, a friend and counselor of Abraham Lincoln, was inaugurated as the first president and the first class was graduated.
Indiana Asbury grew quickly, although many men left the university to fight for either North or South during the Civil War. Women were admitted in 1867.
When the university experienced financial difficulties in the 1860s, its leaders turned to businessman and philanthropist Washington C. DePauw, one of the richest men in Indiana and a devout Methodist who had contributed money to Indiana Asbury for various purposes. DePauw had made arrangements in his will for a Methodist university to be established after his death. Urged by Indiana Asbury trustees to divert his bequest to the school, DePauw did so and the trustees changed the school's name to DePauw University.
DePauw and his family were particularly interested in the School of Music, which was founded in 1884 and is one of the oldest in the country.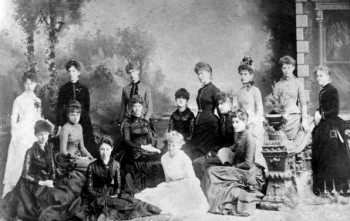 Other benefactors have significantly shaped DePauw's history. Edward Rector gave $2.5 million in 1919 to establish the Rector Scholarship Fund, which has enabled more than 4,000 students to enjoy a DePauw education. Alumni Ruth Clark and Philip Forbes Holton contributed $128 million; the Holton Memorial Fund was established in 1999 to provide scholarships to students of "high character and with academic and leadership potential." In 2013, Timothy H. and Sharon W. Ubben, both 1958 graduates of DePauw, committed $20 million for students' financial aid. The Ubbens also have contributed to endow professorships and to create the Timothy and Sharon Ubben Lecture Series, which brings newsmakers from around the globe to DePauw's campus. And in 2018, Steve and Karen Sanger, both 1968 graduates, gave $20 million to establish the Sanger Leadership Initiative, which provides leadership programming.
DePauw University boasts a number of firsts:
Indiana's first Phi Beta Kappa chapter is located at DePauw. Admittance is limited to students with the highest academic achievement.
DePauw is home to the first sorority in the nation, Kappa Alpha Theta, established in 1870. The Alpha chapter of Alpha Chi Omega sorority was founded at DePauw.
DePauw students founded Sigma Delta Chi, a national journalistic honorary fraternity in 1909. It spread to other campuses and today is known as the Society of Professional Journalists.
DePauw was home to the first 10-watt college FM radio station in the country, WGRE-FM, which went on the air in 1949.
DePauw's student-managed, award-winning newspaper, The DePauw, is the oldest college newspaper in Indiana.
DePauw is the first university in the nation to guarantee its student success. It is doing so through the Gold Commitment, which promises that students who meet curricular and cocurricular requirements will be employed or in graduate school within six months of graduation. If not, DePauw will find them a first job or welcome them back for a tuition-free term to shore up their skills.