Film and Media Arts
The Film and Media Arts Program at DePauw is a community of student storytellers, practitioners, and scholars who learn, collaborate, and succeed together.
Highlights
MacArthur "Genius" Fellowship recipient, Joshua Oppenheimer, discusses his Oscar-nominated documentary, "The Act of Killing," with a Film Studies audience, moderated by Prof. Seth Friedman.
Read More
Greisy Genao's 2018 Research Fulbright Award project took her to the Dominican Republic, where she taught screenwriting and created personal documentary work, resulting in her award-winning short film "Si Ardiera La Cuidad."
Read More
Professors Graham and Wright lead a winter term course to the 2017 Sundance Film Festival in Park City, Utah.
Read More
DePauw Film Studies professors Angela Flury, Seth A. Friedman, and Sherry J. Mou, present at the London Film and Media Conference
Faculty screenwriter Steve Timm and director/alum Kyle Hamm speak about their film Reparation
Dahee Yun is an award-winning filmmaker and new DePauw professor teaching filmmaking, starting in Fall 2022.
Linh Tran '17 wins Narrative Feature Grand Jury Prize at Slamdance Film Festival
Read More
Film Studies major My Linh Tran's Senior Capstone film project premiers at senior showcase
Read More
Film Studies alum Madeline Hawk '16 to teach in South Korea with Fulbright Award
Clemency, written & directed by Chinonye Chukwu '07, takes Dramatic Grand Jury Prize at Sundance Film Festival
Read More
Filmmaking premiers at DePauw! Fall 2016 is the first semester that the Film Studies program has offered classes on film production in addition to classes on film theory and analysis already available.
Henry Johnston '14 (writer/director, on left) and Alex Thompson '12 (producer) with director of photography, Zoe Lubeck, during principal photography for feature film, "King Rat," shot on DePauw's campus summer '15, recently released on Amazon.
Saint Frances, Directed by Alex Thompson '12, Recognized as "Breakthrough Voice" at SXSW Film Festival
Film Studies student serves as script supervisor during a faculty-directed film project.
Sundance Grand Jury Award-winning filmmaker Chinonye Chukwu '07, speaks to a DePauw audience.
Akanksha Cruczynski '14 is a 2021 Student Academy Award finalist in the category of Narrative Shorts (Domestic Film Schools) for her film "Close Ties to Home Country."
Read More
Screenwriting professor, Chris White, discusses film adaptation with students.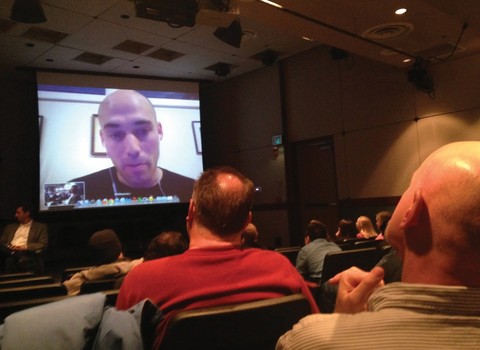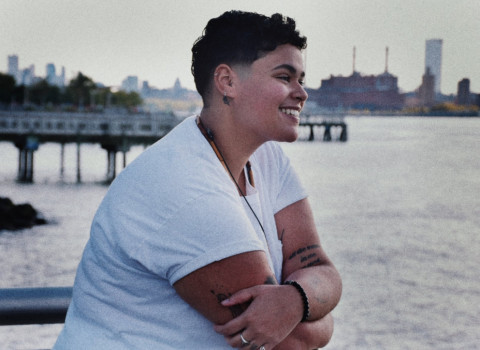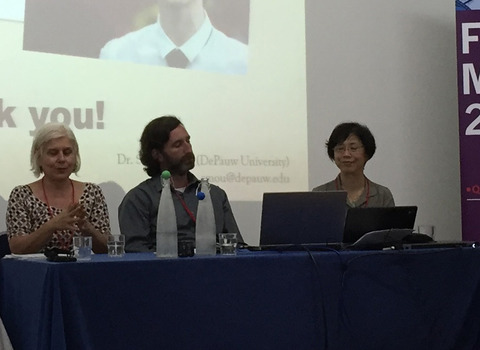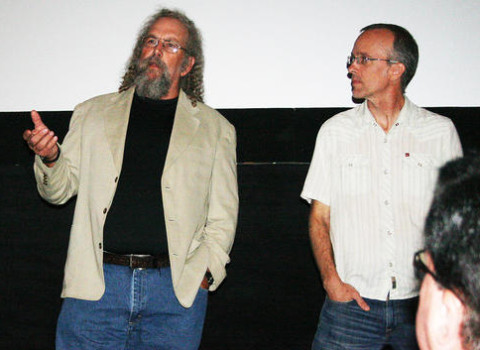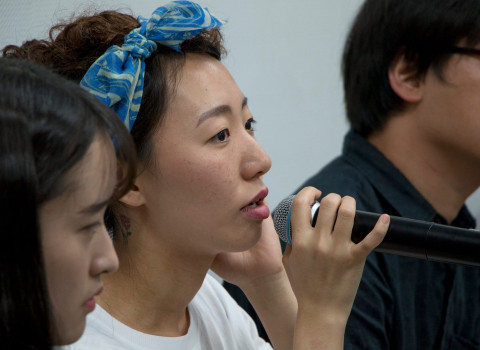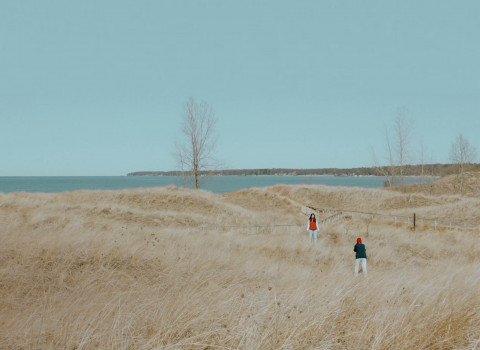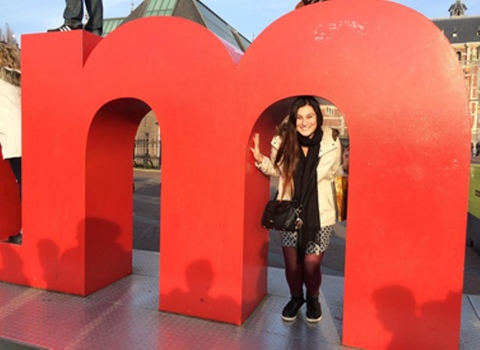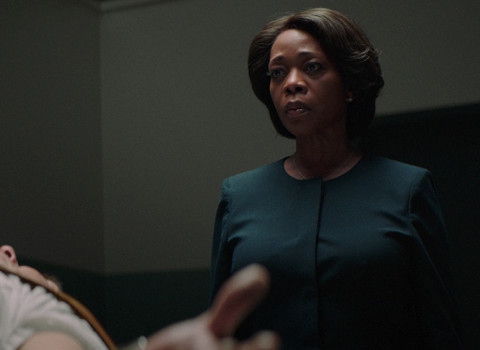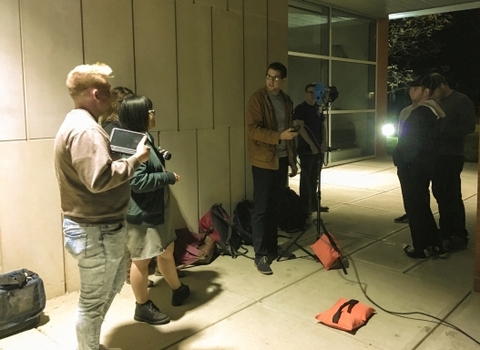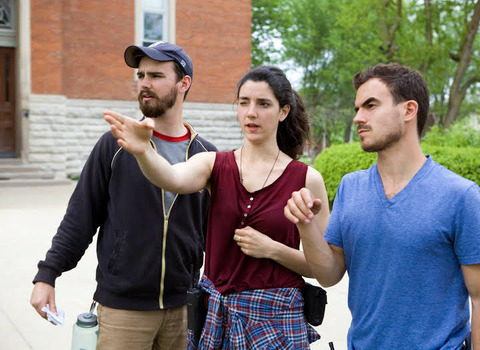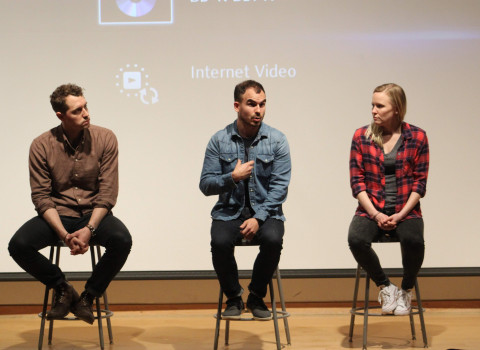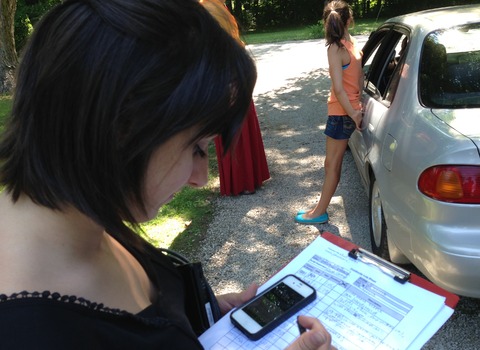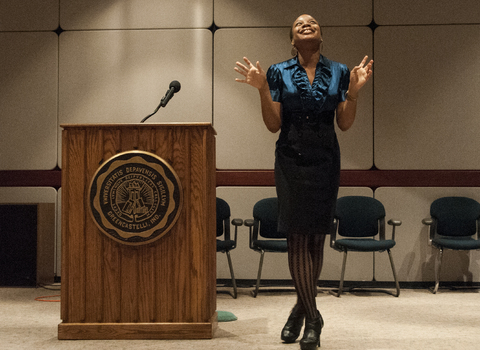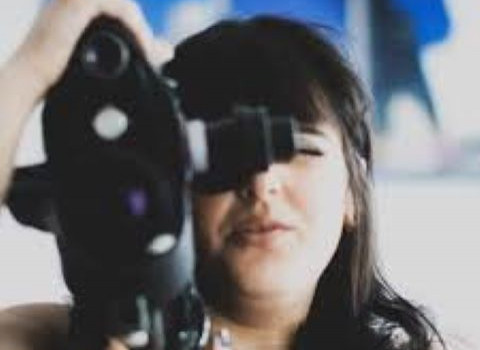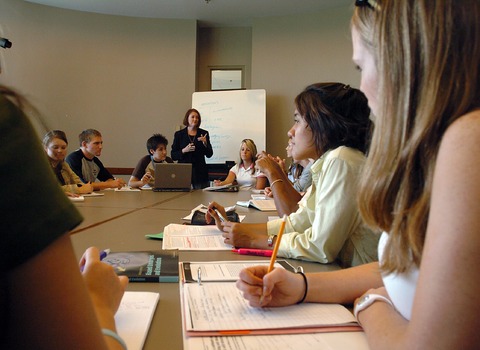 The Film and Media Arts major empowers students to work with storytelling technologies in an increasingly multidisciplinary arts industry, immersing them in film, television, and new media writing and production, supported by courses in film and media theory, history, representation, and interpretation, in an interdisciplinary, collaborative, and inclusive learning environment. Film and Media Arts students also have the opportunity to collaborate with student musicians, actors, writers, studio artists, and design artists, as they learn to create their own unique stories for a world that needs their voices. The flexibility in course requirements allows students to create an individualized path through the major – emphasizing production, scriptwriting, or critical studies, or creating their own perfect balance.
Students study abroad or take part in exciting internships, where they work on film and video sets, tv shows or networks, evaluate scripts for production companies, and apprentice with film and media artists who are at the top of their fields.
DePauw's extraordinary alumni network becomes a resource for students from nearly day one. They visit campus to screen their award-winning films and video work, lead classes and hold workshops, share professional production opportunities, and offer post-grad connections, intent on paying it forward.
DePauw alums are winning some of the most coveted awards in the business, including Grand Jury Prizes at Sundance, at Slamdance, at SXSW; a Pulitzer Prize in video reporting; an Emmy; and a Student Academy Award. They're earning MFAs and PhDs, securing Fulbright fellowships and other major grants, teaching at the college or secondary school level, writing web series, feature films, scholarly articles, and film reviews, producing film trailers and aerial cinematography for major motion pictures, succeeding in marketing, branding, or social media content creation, working for nonprofits and organizations for social change, and generally thriving in media organizations, large and small.
Through their creative vision, cultural awareness, and work ethic, our graduates help change the world.