GEOS Speaker - Dr. Barry Bickmore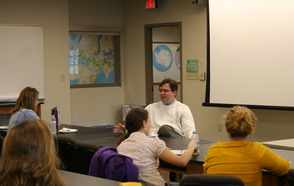 April 10, 2013
As part of the Ethics on Communicating Climate Change Conference hosted by
the Prindle Center, the Department of Geosciences hosted Dr. Barry Bickmore, a Mineral Surface Geochemist from Brigham Young University, Utah on Wednesday, April 10th for a departmental luncheon, talk, and Q&A session with students.
Dr. Bickmore was at one time a climate change skeptic, but over the last several years has re-evaluated the data and science behind modern climate change and has recognized the growing severity of the problem. As a consequence, he has become a national spokesperson on the issue of climate change.