Brooks, Howard L., Ph.D.
Contact
---
(765) 658-4653
hlbrooks@depauw.edu
Julian Science and Math Center, Room 241
Greencastle, IN
46135
Physics and Astronomy
Professor of Physics and Astronomy and Chair of the Physics and Astronomy Department
Dr. Brooks graduated Summa Cum Laude with honors in physics from William Jewell College in 1977. He completed his M.S. (1979) and Ph.D. (1981) degrees in physics at the University of Missouri-Rolla. His research there investigated the interaction of low energy electron swarms with gas mixtures containing iodine and mercuric bromide. He joined the faculty at DePauw in 1981.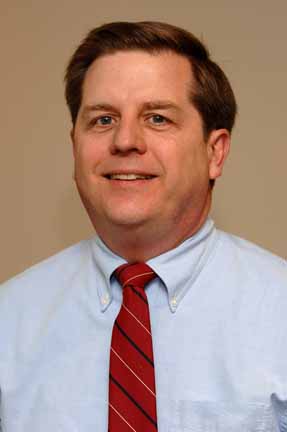 From 1986 until 1994, Dr. Brooks conducted research with engineers in the Test Laboratory at NASA's Marshall Space Flight Center in Huntsville, Alabama. In the summers of 1986 and 1987 he was a NASA/ASEE Summer Faculty Fellow. The remaining years, he worked under unsolicited grants dealing with the optical analysis of data collected during crystal growth experiments conducted onboard Spacelab.
In subsequent years, Dr. Brooks has supervised student research projects investigating the flight of various objects. Students in the Science Research Fellows program have built simple machines to throw boomerangs and kick footballs. His current research is with the Balloon Assisted Stratospheric Experiments (BASE) program, which involves DePauw students and students from area K-12 schools in designing, building, and flying experiments into the stratosphere.
Dr. Brooks serves as the Fair Director for the West Central Indiana Regional Science and Engineering Fair. DePauw has served as host for many Regional Fairs, including every fair since 2002, except for 2006 and 2008 when DePauw hosted the Hoosier Science and Engineering Fairs (the state science fair).
He married Marilyn Parham and they have two sons Nathan and David. Nathan married Liz Linch and earned his Master of Divinity degree from Asbury Seminary. Nathan serves as pastor of First Baptist Church in Bloomfield, Indiana. Nathan and Liz have a daughter, Tiffany. David graduated from Taylor University and completed the Transition to Teaching program to be certified as a secondary high school history, government and geography teacher. David is a history teacher and coaches cross country and track at Carroll High School in Fort Wayne, Indiana. David married Marta Chase. They have two daughters, Libby and Maggie, and a son, Eric.
Howard is active in the First Baptist Church in Greencastle.
Back to Faculty