Degrees and Areas of Study
5-Year Double Degree: Bachelor of Music (B.M.) in Performance and Bachelor of Arts (B.A.)
Students in our Five-Year Double Degree Program complete a Bachelor of Music as well as the full liberal arts curriculum required for the Bachelor of Arts in a discipline outside of music. Students accepted into this program are eligible to receive a fifth year of merit-based scholarships and need-based financial assistance.
Click here to read more about the five-year double degree.
Minors in Music
The School of Music offers a Minor in Music and a Minor in Musical Theatre to students in the College of Liberal Arts. Additionally, we offer a Minor in Jazz Studies available to students in our College of Liberal Arts and School of Music. School of Music students may also pursue a Minor in Musical Theatre.
Click here to read more about minors for
College of Liberal Arts and School of Music students.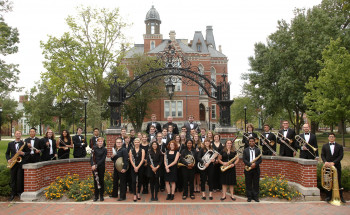 Ensembles
The DePauw University Band, University Orchestra, University Chorus, Chamber Singers, and Jazz Ensemble are open to all students through auditions that occur prior to the beginning of each semester. The Symphonic Band and Putnam County Festival Chorus do not require an audition. A wide range of jazz combos and chamber ensembles are available as well.
CURRICULUM OVERVIEW
At DePauw, we not only teach students to be the best players and singers they can be; we emphasize extended exposure to 21st-century musicians, community leadership and engagement, and practices that help young musicians earn a living while building a meaningful life as a performing musician. Our newly revised curriculum provides a variety of chances for students to grow.
Core Music Courses
The core music courses at DePauw include courses such at Theory I-IV, Musicianship I-V, Conducting, and a sequence of Music History courses.
Private Lessons and Ensembles
All DePauw music students participate in private lessons and major ensembles each semester on campus.  All instrumental students enroll in chamber music courses during their undergraduate studies, while voice students engage in the performance of musical theatre and opera repertoire.
21CM Courses
The 21CM curriculum consists of a set of new and revitalized courses including Musicking – a course to introduce first-year students to 21CM skills such as artistic creation, critical thinking, and everyday advocacy.
State of the Art
Music Entrepreneurship
A practicum course and a set of relevant and ever-changing topics courses to prepare students for a career in music in the 21st century.
Degree Specific Courses
Each degree requires a set of courses specific to that degree and instrument area.  Select an area of study to learn more about each degree.
ALL SCHOOL OF MUSIC DEGREE PROGRAMS REQUIRE A MINIMUM OF 36 CREDITS TO GRADUATE.
VISIT THE DEPAUW UNIVERSITY COURSE CATALOG FOR A FULL LISTING OF COURSES.  SPECIFIC DEGREE REQUIREMENTS CAN BE FOUND UNDER EACH AREA OF STUDY.