Alison Grimm
Admission Intern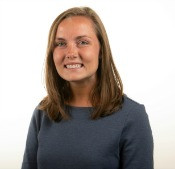 Ali is from Batavia, Illinois which is a Western suburb of Chicago. When she began her college search she was looking for one thing: balance. Ali's main goals were to continue her soccer career, challenge herself with rigorous academics, and grow as a person in social and extracurricular settings. The minute Ali stepped foot on DePauw's campus, she knew this was her future home. In fact, Ali's local newspaper captured her commitment to DePauw as a "Say Yes to The Dress" moment.
Ali is currently a senior who is studying Communication and Economics and she has taken advantage of DePauw's many opportunities. Ali is a management fellow, member of the Women's Soccer team, Mortar Board member, and D3TV Marketing Consultant. Involvement in these activities has given her a number of opportunities off-campus. Ali traveled to Italy for Winter Term her sophomore year with the soccer team, she completed an off-campus, paid internship in Chicago through Management Fellows, and her work at D3TV has proved to be an excellent talking point during interviews. Ali loves to stay busy and is thankful for all of these opportunities.
Ali first got involved with Admissions at the beginning of her Junior year. She was an Admission Ambassador and enjoyed giving tours to prospective students and their families. Ali remembers her first tour of DePauw as an integral part of her college decision and loved getting to be a part of it for DePauw's future students. When the Admission intern position was offered, it seemed like a natural step to apply.
"I feel very fortunate to join the wonderful admission staff and I am looking forward to meeting all of the prospective students and their families this coming year!"
Education
DePauw University Class of 2019, B.A. in Communication and Economics