Amalia Crevani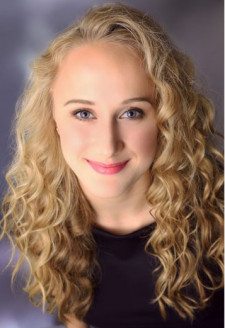 Amalia D.C. Crevani is a senior from New Jersey who somehow stumbled around the nation and
found herself at DePauw University in Indiana. Looking for schools with strong music and
theater programs, Amalia ended up falling in love with the DePauw School of Music, its faculty,
staff, students and its unmatchable opportunities. She is pursuing a Bachelor of Music in Vocal
Performance and a double minor in theater and musical theater. However, have no fear of this
music and theater stuffed human. If you approach her, she vows not to break into song, not to
pirouette down the hall, nor to recite Hamlet's "to be or not to be" soliloquy. Just talk about your
favorite books and poets, your recent sketches, animals, food, soccer or even just briefly mention
Italy and you'll distract her with non-music related passions (and ultimately save yourself).
Her favorite part about being a part of the admissions team is that she gets the opportunity to
welcome prospective students and make them feel comfortable, as the college searching process
can be extremely daunting, as well as getting to share first hand all of the truly brilliant and
invaluable opportunities that DePauw has to offer.
When she is not studying away in solitude, hiding in a practice room or crying onstage (in
character of course), because being a busy music and theater student is simply not enough, she is
biking around campus at high speed, packing her small windows of free time to soak up all that
DePauw offers with a range of clubs, work, activities and hobbies. She has been a part of the
student-led dance team, Company Unspoken, Improv club, DePauw Contemporary Music
Ensemble and Meditation Club. She takes community dance classes in a number of styles,
studying with the wonderful Deborah Grammel and was very briefly a part of the Women's
Soccer Team at the start of her freshman year. As a native Italian speaker, she served as an
Italian tutor for her fellow classmates last fall. She also works in the School of Music costume
shop, helping construct and coordinate costumes for all School of Music and community
performances. While last semester's circumstances did not permit it, she still hopes to get the
chance to be able to have the opportunity to teach music through the Community Music Program
as well as to get involved with Prism. Last year she volunteered at the Asbury Towers Senior
Living Center, singing, playing and organizing concerts for the local residents.
She is a part of the Duzer Du Chapter of Alpha Psi Omega National Theater Fraternity for which
she previously held the position of Historian and currently holds the position of Member at
Large. At the end of her junior year she was inducted into the Pi Kappa Lambda National
Honorary Music Society. She has also been a part of DePauw's Resonance Treble Vocal
Ensemble for which she held leadership positions of Creative Designer and Recording Secretary.
Through the music school, her fabulous teachers and exposure through numerous DePauw
related opportunities, Amalia was able to be a part of music courses, masterclasses, competitions,
notable summer programs with renowned artists all over the United States and abroad. These
unmatchable experiences opened a number of doors for her continued studies and aspiring career
as a young artist. Some of these invaluable opportunities include the Metropolitan Opera Council Audition Encouragement Award, being accepted into the Aspen Summer Music Festival, studying with the great soprano, Edda Moser, at the Palazzo Ricci Music Academy in Italy, training and performing in concerts throughout Stia, Italy in the Casentino Voice program, The National Opera Center through New York Lyric Opera Theater, and being selected to perform in the national collegiate opera scenes finals in Cleveland, Ohio for the National Opera Association.
While her education is mainly centered around her music and theater studies, Amalia's favorite
part of her liberal arts education is that she gets the chance dip her toes into new experiences and
splash her feet in a wide range of interests, all the while still getting the disciplined focus of her
primary studies. In fact, it is what she cherishes the most; through this exposure, she has met
amazing people, stepped outside of her comfort zone, explored new subjects, pursued new
interests and learned so many new things that ultimately inform her and her work as an artist and
a human being.