Billy Burke '17
Admission Counselor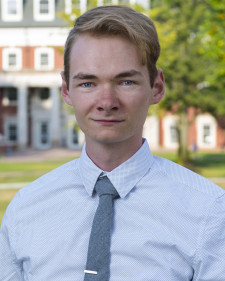 Billy came to DePauw from the suburbs of Cleveland, OH; he swiftly fell in love with the campus, with the academic rigor and the robust experiential learning opportunities that DePauw's unique brand of liberal arts education had to offer.
While at DePauw, he worked closely with various student-academic life offices to shape and reshape the DePauw experience—he was a resident assistant for both first-year and upperclassmen student communities and a sitting member of the Student Academic Life Committee. He was also the president and artistic director of the resident student theatre company on campus. Billy received his BA with double major—English Writing and Theatre—in spring of 2017, graduating with honors and as an Honor Scholar.
Outside of work, Billy is an avid reader (ask him what he's reading!) and writer (ask him what he's writing!), with interests in postmodern drama, queer theory, and literary fiction. He loves to watch movies, eat excessively long dinners with friends, and travel.
Education
DePauw University, '17, Bachelor of Arts: English Writing and Theatre