Clare Lansden
Admission Intern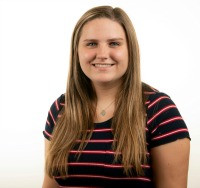 Clare Lansden is an English Writing major from Springfield, Illinois. She found DePauw by accident when driving home from a One Direction concert in Indianapolis. She was immediately drawn to the beauty of campus, and later fell in love with the opportunities that DePauw has to offer, such as internships and studying abroad. During her college search, she knew that she wanted a Liberal Arts education, and was able to find exactly what she was looking her for here at DePauw.
Clare is starting her Junior year at DePauw. During her first year, she was a cheerleader for the DePauw football team and was extremely excited to be a part of bringing the Monon Bell back to campus. As a sophomore student, Clare decided to join the Alpha Chapter of Alpha Chi Omega. After her first semester on campus, Clare was a Summer Intern at the Office of Admission. Ever since then, she has been very interested in pursuing Admission work, and is now an Intern at the Office of Admission (again)!
Clare has a passion for travel and has been to multiple countries. On her Winter Term last year, she went to London and Paris while studying Children's Literature. Along with travel, Clare also has a passion for Martial Arts and is a Black Belt in Kenpo Jitsu.
Clare is looking forward to sharing her enthusiasm of the DePauw Community to prospective families and helping students find their next path in life during the college decision making process.
Education
DePauw University Class of 2020, B.A. in English Writing