Corina Bourantas
Admission Intern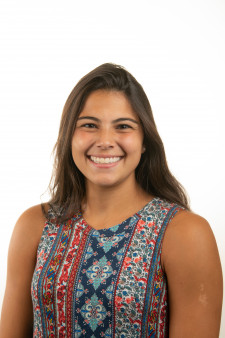 Corina Catherine was born in New York and moved the great first state, Delaware. Participating in many interests growing up, Corina found field hockey as her passion. She worked hard in mastering her sport as finally decided to move 10 ½ hours away to attend DePauw University. Entering her fourth year as a double-major in Educational Studies and Communication, Corina thrives and succeeds with peers and family cheering her on and supporting her.
Over the past 3 years now, Corina has worked at the Student Post Office whereby meeting new students and providing all their mailing needs. She is also an Athletic Department Intern who helps around the office and athletic facilities. You can catch being ball girl for soccer games or even the announcer for basketball or lacrosse. Corina is a member of the Pi Beta Phi Sorority and has held a position as the Event Planner and currently the Policy and Standards Board Chairman. If you think this is a lot, Corina also finds to have her own radio show every week to play Frank Sinatra and talk about fun conspiracy theories.
You can always find Corina walking around saying hello and smiling at people or even dancing to no music. She loves to take drives and explore the Greencastle area as well as go bowling, watch movies and just being active in general. Corina loves sushi, popsicles, and tootsie rolls. And finally, she will never hesitate to tell you she is Greek!
Education
DePauw University Class of 2018, B.A. in Educational Studies and Communication