Erin Confer-Staggers
Events Coordinator, Senior Admission Representative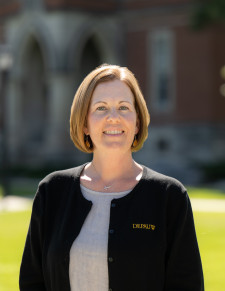 Erin Confer-Staggers grew up in the resplendent Laurel Highlands of the Allegheny Mountains in Southwestern Pennsylvania close to where she attended college at the University of Pittsburgh (Pitt). At Pitt, she worked in the New Student Programs Central Office planning first-year student orientation for 13,000 undergraduates and was a member of the residence life team in Holland Hall and an Admission Office Pitt Pathfinder Tour Guide. Erin was a 3-year Chapter Council member for the sisterhood of Kappa Kappa Gamma Women's Fraternity and a Blue and Gold Society event-host with Chancellor J. Dennis O'Connor during her senior year. These leadership experiences at Pitt led her to pursue a master's degree focused on student development and the varied facets of college campus environments to best prepare her to help students and to serve in higher education.
She began her studies in Bloomington at Indiana University where she held assistantships in Residence Life as a staff member in Wright Quadrangle and Read Hall and interned with the Union Board of Directors for the Indiana Memorial Union. Following graduation, Erin became the Director of Student Activities at Wesleyan College in Macon, Georgia, and then the Assistant Director of the Holland Union Building and Student Activities at Dickinson College in Carlisle, Pennsylvania before making her way permanently, in September of 2000, to Greencastle.
Erin was the Associate Director of Alumni Relations and managed Old Gold Homecoming and Alumni Reunion Weekends. She worked with the Alumni Board of Directors, liaised with several regional alumni councils around the U.S. and coordinated Monon Bell Watch parties for five years. During her early professional years, she served as a member-at-large on the University of Pittsburgh Alumni Association Board of Directors, a member of the Greencastle Kiwanis Chapter, a president of The Greencastle Civic League and was the philanthropy chapter advisor for DePauw's Iota Chapter of Kappa Kappa Gamma.
After a couple of years as a stay-at-home mom caring full-time for her young sons, Erin returned to DePauw in the Office of the President where she served for 14 years. She coordinated the Timothy and Sharon Ubben Lecture Series, planned and hosted the Trustee Spouse/Guest Program, and worked with DePauw Presidential Ambassadors who co-hosted events during their senior year with DePauw presidents Dr. Brian Casey, Dr. D. Mark McCoy and Dr. Lori S. White. Erin's behind-the-scenes planning included campus wide events,Trustee meetings and various sized gatherings at The Elms and on campus. She enjoyed hosting guests and colleagues, served as a member of Dr. White's Inauguration Steering Committee and was an integral part of the infrastructure team who helped manage the workflow which ultimately became the DePauw Bold & Gold 2027 Strategic Plan.
As seasons change in life, Erin's professional focus at DePauw recently shifted onto admission work where she finds herself deeply motivated to help high school students and families find meaningful connections during their visit experience to campus. Her relationships with current students, alumni, faculty and staff invigorate her to welcome future DePauw Tigers. She is grateful to live in Greencastle where, without fail, she knows at least one other person at Kroger and consistently experiences a profound sense of belonging, whether it be sitting in a booth at Marvin's, walking through Robe Ann Park, or looking for her next favorite read as she wanders the stacks at the Putnam County Library.
Education
University of Pittsburgh, Bachelor of Science: Psychology
Indiana University (Bloomington), M.S. Education, Concentration: College Student Personnel Administration