Heather Wright
Associate Director of Operations
Retention Liaison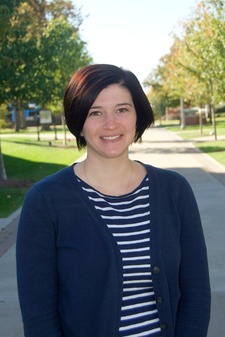 Heather was born and raised in Rochester, New York. She completed her undergraduate studies at the State University of New York (SUNY) Brockport, graduating with a degree in Interdisciplinary Arts for Children with a Visual Arts emphasis. Heather went on to get her Master's degree at Nazareth College in Rochester, graduating with a degree in Inclusive Childhood Education with teaching certifications for both Special and Elementary Education.
Prior to beginning her work in Admission, Heather spent most of her professional career working in Student Life. She began her career as an Area Coordinator and then Assistant Director for Residential Life at Austin College, located in Sherman, Texas. After relocating to the midwest, she began working in the Women's Center at DePauw which landed her in Admission this past September.
Heather and her husband, who is a member of the DePauw Faculty, are raising their daughter in Greencastle. They recently bought a Victorian home built in the 1880's that they plan on slowly renovating. When not working on the house, you can find Heather sewing or baking.
Education
State University New York at Brockport, '03, Bachelor of Science: Interdisciplinary Arts for Children
Nazareth College, '05, Master of Education, Inclusive Childhood Education