Jacqueline Bauer
Director of Regional Recruiting & Alumni Enrollment Ambassadors
regionally based in Florida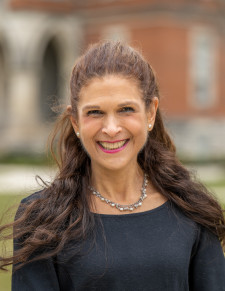 Jacqueline grew up in Miami, Florida where she enjoyed the area's sunny tropical weather and beautiful beaches while also working hard during high school to prepare for college. She decided to attend University of Florida (UF) and pursue a liberal arts degree, majoring in political science and international relations. While at UF, she was involved with Kappa Delta sorority, Dance Marathon (an annual event raising money for the Children's Miracle Network), worked as a part time lifeguard, and performed in several of the university's ballets. Of course, she was also a spirited fan at all types of college sports.
After graduating, Jacqueline worked for the Florida Governor's Office writing and editing correspondence and assisting with citizen outreach. She was also employed in the field of public relations in Washington DC prior to seeing a job posting in her alumni newsletter which would change her career path. Her alma mater was looking for a regional admissions recruiter and she was hired for the job. Proof that a Liberal Arts degree is an excellent background for any industry! For 10+ years, Jacqueline traveled in the Mid-Atlantic and NE connecting with prospective students. Working with families during the exciting time of applying to colleges and selecting the perfect campus is her passion.
Jacqueline has also worked within her college's alumni association, where she planned alumni programming. When looking for the next step in her career, an opportunity at DePauw University combining the areas of admissions recruiting and alumni volunteering was the perfect match. Jacqueline just joined the team at DePauw and will be working regionally (living in Florida) to recruit excellent new Tigers from the Southeast USA. She will also be leading exciting programs aimed at getting alumni involved with efforts to bring top students to campus.
During her free time, Jacqueline still enjoys the beach. She also teaches Ballet Barre and several other fitness classes. She loves traveling for work and for leisure and enjoys checking-out college campuses in different cities.
Education
Bachelor of Science, Political Science & International Relations- University of Florida