Jed Fajt
Assistant Director of Admission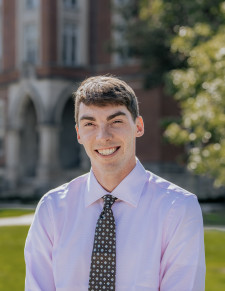 Jed Fajt graduated from Hanover College in May of 2021 with a degree in business, as well as communications. At Hanover Jed was a member of their men's tennis team earning all-conference accolades his senior year. Jed was also a heavily involved member of the Tau Chapter of Phi Gamma Delta Fraternity, where he spent his time as their recruitment chair. He also helped the betterment of the Greek Community at Hanover through his work as the VP of Scholarship and latter role as President of their Interfraternity Council.
Jed is no stranger to DePauw, as he has grown up in Greencastle his entire life. While his love for the campus influenced his decision to join the admissions team his desire to share his own college experience and value for education impacted his decision as well. Jed considers the friendships and relationships he developed in school the most important part of his collegiate experience and hopes to guide many students to experience the same fulfillment at DePauw. Jed's goal is to bring his contagious sense of humor to the team, all the while leading students to discover their true self and place within DePauw's community.
In his free time, you will find Jed helping out with DePauw's men's and women's tennis teams, as he aspires to possibly be a head or athletic director one day. Jed is not only a fan of tennis though, as he is also an avid watcher of college basketball, the NFL, and enjoys golfing in his spare time. You will often see Jed riding his bike or walking his dog around campus with airpods while listening to the latest music. Jed is most excited for the possibility of traveling across the country for admissions, as he loves discovering hole in the wall restaurants and seeing what all nature or history has to offer in a given area.
Education
Hanover College, '21, Bachelor of Arts: Business & Communication