Jen England
Senior Associate Director of Admission
Regionally based in New York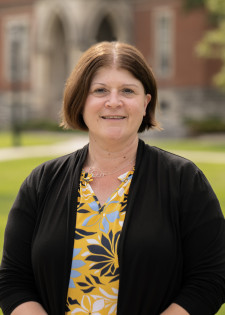 Learn more about Jen
Where is your favorite place on campus?
Stewart Plaza. I love to sit and watch the students coming and going from Hoover Dining Hall and the student union.
Where is your favorite place to eat in Greencastle?
Bridges (creative menu!) or Almost Home (amazing beet salad that's featured on occasion!)
What is your favorite DePauw Tradition?
Opening Day for New Students
What advice would you give to a student considering DePauw?
Visit campus! When you do visit, find a place where students socialize (dining hall, student union, wellness center) and plan 30 minutes or so hanging out there. It's a great chance to see what DePauw students talk about, see them interact with one another, etc., and to see if you think these are the people you'd like to spend four years learning and living with.
Education
Saint Michael's College, Bachelor of Arts: Psychology
Ball State University, Master of Arts: Student Personnel Administration in Higher Education