Kelly Garcia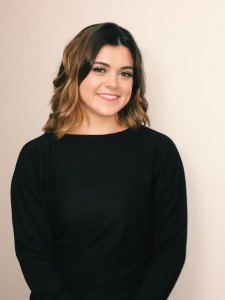 Kelly was born in Indianapolis, Indiana but grew up in Zionsville, Indiana. She attended Zionsville Community High School (ZCHS), where she was a part of the women's tennis team. During her time in high school, she also spent time in ballet classes and writing for the school newspaper. Kelly graduated from ZCHS in 2017. During her college search, she knew small classrooms and a tight knit community was important to her. DePauw provided that and so much more for her.
At DePauw, Kelly is studying one of her favorite things: biology. DePauw allows Kelly to pursue her interest in biology, but also has encouraged her to find new interests in subjects such as psychology. After graduation, Kelly plans on attending graduate school and becoming a physician assistant. Throughout her life, Kelly has always enjoyed talking with others and caring for others.
Kelly's commitment to interacting and engaging with other people has driven her desire to be a part of the admissions office, as well as providing care for patients as a physician assistant. Through her role in the admissions office, Kelly hopes to provide help and guidance to prospective students and their families through their decision-making process.