Leia Hudgins
Admission Intern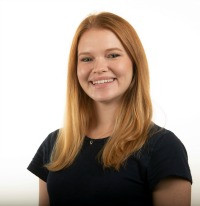 Leia is a senior from Evansville, IN. As a Science Research Fellow, she decided to double major in Biochemistry and Global Health. She originally heard about DePauw from her family members who attended years before her. After visiting campus her first time, she fell in love with everything DePauw has to offer and has thrived on campus. What she loves most about DePauw are the vast opportunities she has had, especially the opportunities that have encouraged her to step outside of her comfort zone.
In four years she has had the chance to become involved in multiple organizations on campus including her sorority Kappa Kappa Gamma and the pre-medical fraternity Phi Delta Epsilon, where she served as the VP of Recruitment. In addition, she has also held leadership positions in Timmy Global Health, serving as the VP of Medical Professional Recruitment, and on the Panhellenic Council as VP of Communications. Leia's biggest piece of advice for incoming students is to take advantage of all that DePauw has to offer, especially the opportunities to go abroad and experience different cultures. Leia loves to travel and she has already been able to travel to France, the Dominican Republic, and Ecuador. This spring she will be spending the spring semester in Stockholm, Sweden studying Public Health.
After DePauw Leia aims to attain her Master's Degree in Public Health, as well as go to medical school. Ultimately, she wants to work on the public health side of healthcare by working as a physician in low-income areas of the U.S., while also partnering with international organizations like Doctors Without Borders, so she can combine her passion for travel and medicine.
Some of Leia's favorite things to do are spend time with her cats, snow ski, and travel whenever she can. In fact, Leia plans to visit all seven continents before she turns 30 (only 3 more to go)!
Education
DePauw University Class of 2019, B.A. in Biochemistry and Global Health