Loutfi Jirari
Assistant Vice President for International Enrollment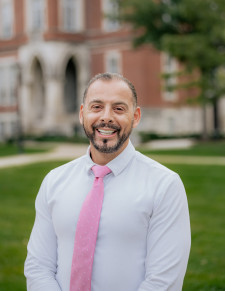 Learn more about Loutfi
Where is your favorite place on campus?
The Nature Park is a beautiful place with over ten miles of trails winding through the woods along a large creek. It's a perfect place for running and walking.
Where is your favorite place to eat in Greencastle?
The Whisk is my favorite hangout place in town. It's a family-owned business with great food and drink selection. This place has a wonderful community vibe with many live music events.
What is your favorite DePauw tradition?
The Monon Bell is my favorite DePauw tradition. This annual football game between DePauw and Wabash began in 1890 and is among the oldest college football rivalries in the nation.
What advice would you give to a student considering DePauw?
DePauw University develops leaders the world needs through an uncommon commitment to the liberal arts. It's no wonder that DePauw's graduates are among the top 7% in lifetime career earnings. DePauw ensures that every single student has access to resources, opportunities, and services that prioritize student lifelong success.
Education
Southern Illinois University, Master of Business Administration