Makaela Lochmueller
Admission Counselor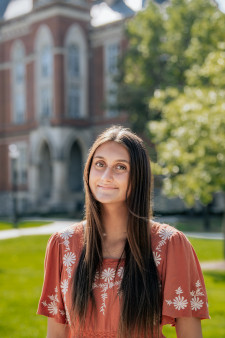 Makaela Lochmueller attended Grace College, located in Winona Lake Indiana, where she graduated with a bachelor's degree in three years as of July of 2021. Here she was also a collegiate volleyball player who received 1st team all-conference, notable All-American mentions, as well as awards for being a scholar-athlete. Throughout her time in Winona Lake, she also worked in the admissions office as a student ambassador. This sparked her interest in the world of admissions, and ultimately led her to DePauw.
Makaela knew she wanted to work for a university in college admissions, and she quickly became drawn to DePauw. DePauw stood out to her for multiple reasons, but- "primarily because of the caliber of people working at, and attending, DePauw." She had such high praises for the drive of the students, and the genuineness of everyone she interacted with not only on campus but also online.
However, outside of work hours, you can find Makaela doing a variety of things. She enjoys outdoor activities such as hiking and still plays volleyball in a variety of recreational leagues. Makaela also loves her cat Mateo who keeps her on her toes.
Education
Grace College, '21, Bachelor of Science: Communications