Marshall Adams
Assistant Director of Admission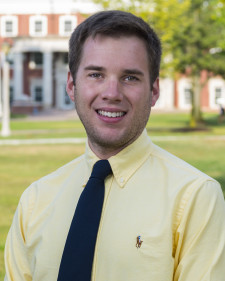 Marshall joined the DePauw admissions team in the fall of 2017. He grew up in Burlington, NC and attended Walter M. Williams High School. For his undergraduate studies Marshall attended East Carolina University where he earned his B.S. in Business Administration with a concentration in Marketing. During his time as an undergraduate at ECU, Marshall was a proud member of the ECU Marching Pirates and served as Vice President for the Epsilon Alpha chapter of Beta Theta Pi. After graduating in the Spring of 2015, Marshall joined a regional newspaper in Eastern North Carolina as an advertising manager where he was responsible for developing advertising strategies for print media with business owners throughout the area.
In the Spring of 2016, Marshall began his career as a Masters student in the MBA program at ECU. It was during this time that he found his passion for college admissions while working as a graduate assistant in the ECU Graduate School. He realized early on that he was excited to work with students in order to help them further themselves academically while also advancing their careers. This interest in admissions is what lead Marshall to DePauw.
In his free time Marshall enjoys cooking and watching sports, especially soccer and college basketball. He also plays the saxophone and regularly attends concerts and plays.
Education
East Carolina University, '17, Master of Business Administration
East Carolina University, '15, Bachelor of Science: Business Administration, Concentration in Marketing