Megan Mannering
Admission Intern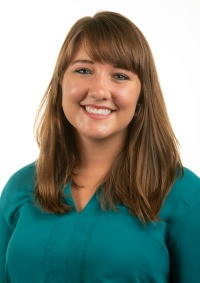 Megan is in her final year at DePauw University, pursuing a major in communication and minors in both Spanish and anthropology. Coming from a tiny town in north-central Indiana, throughout her college search Megan was looking for a smaller campus with an emphasis on community and student involvement. Ultimately, DePauw was the perfect fit. She loves how welcoming each person on campus is, and she feels confident that her four years here have prepared her for the next step.
At DePauw, Megan keeps busy with a number of activities. She is the co-president of DePauwCappella, a Media Fellow, member of Alpha Phi, DJ for her weekly radio show, "Shout Out Hour," anchor for D3TV's "The Source," and a student manager for the football team. She recently completed her semester-long Media Fellows internship with a TV production company in Madrid, Spain. She hopes to build on this experience after graduation by working at a television news station.
As her senior year continues to fly by, Megan is grateful for the classroom discussions, trips to foreign countries, and everything in between that DePauw has provided. Go Tigers!
Education
DePauw University Class of 2019, B.A. in Communication, Minors in Spanish and Anthropology