Natalie Lugg
Associate Director of Admission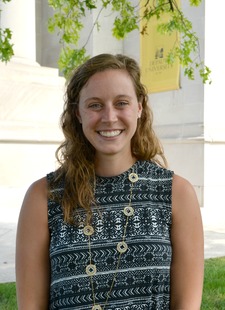 Natalie was born and raised in the Minnesota tundra, so when she began her college search, she knew she wanted to head south towards a warmer climate. She found her fit at Denison University in Granville, Ohio. At Denison, Natalie competed on the Women's Swim and Dive team, serving as captain her senior year and achieving a first-place finish in the 100 breaststroke at the 2014 D-III National Championship. She graduated in 2014 with a B.A. in economics.
In her senior year at Denison, Natalie worked in the Office of Admission as a Senior Interviewer. This opportunity allowed her to explore a career in college admissions and the many aspects of recruitment and enrollment at a liberal arts institution. Natalie joined the DePauw admission team in 2014 and is excited to pursue her passion of helping students find their niche. She hopes to enlighten students on the flexibility of a liberal arts education. As a student-athlete, Natalie balanced a rigorous academic schedule with competing on a well established D-III swim team. The ability to focus on both academics and athletics was what drew her to the liberal arts.
Despite escaping the blustery Minnesota winters, Natalie embraces the first snowfall each year with open arms. In her free time you can find her swimming laps at the Welch Fitness Center or, in the wintertime, nordic skiing on the Minnesota trails. Natalie is a bit of a chocolate addict - milk, white, dark...you name it - and will rarely turn down a good cup of coffee. She even collects coffee mugs from the different places she visits, and hopes to add a few new ones to her collection from her admissions travels.
Listen to Natalie talk about her role in admission:
Education
Denison University, '14, Bachelor of Arts: Economics