Orlando Ramirez '13
Associate Director of Admission, Staff Development Manager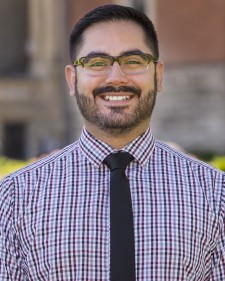 Orlando is a DePauw graduate who hails from Queens, New York. As fate will have it, Orlando was taking private trombone lessons with a DePauw music professor who encouraged him to apply to the School of Music. He took this professor's advice to heart and ultimately chose DePauw because it "felt like home." Orlando received his Bachelor of Musical Arts degree in May 2013 and immediately joined the admission staff to guide other students toward the kind of experience he had as a DePauw student.

For Orlando, working at DePauw after graduation was an easy transition. He loves the camaraderie in the Office of Admission and the common passion for DePauw shared by the staff members. For him, the most rewarding part of the job is helping students from all backgrounds obtain a college education at one of the nation's great liberal arts universities. According to Orlando, visiting campus is a "must-do," and students should be sure to take in the view of East College as they meander down Burkhart Walk -- his favorite view on campus.

On any given day, one can expect Orlando to be attending orchestral concerts, pretending to conduct the New York Philharmonic in his office, and watching 80's movies. Prior to landing at DePauw, Orlando lived in Sydney, Australia for two years. He also visited London with DePauw's University Orchestra and hopes to expand his international travel bucket list in the near future.
Education
DePauw University, '13, Bachelor of Music