Quinci Miller
Admission Intern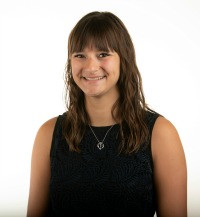 Born and raised in Greencastle, Indiana, Quinci was always close to campus and admired it through a residential perspective. After a campus tour and the persuasion of her mom, an alumna of DePauw, Quinci fell in love with the community environment. She remembers loving that she could study abroad, do multiple internships, take classes in almost every department and grow in her professional development skills. She is now currently a senior Communication major and hoping to pursue a full time career in admissions upon graduation.
On campus, Quinci is involved in volleyball club, Young Life, the Alpha Chapter of Alpha Chi Omega and is an intern for the Office of Admission. In the past she has served as the Vice President of Grounded, been a Resident Assistant, a tutor at the Speaking and Listening Center, a member of the varsity volleyball team and has been a part of a college-oriented program known as the 500 Festival Princess Program. From DePauw's amazing connections and education, Quinci has had the opportunity to intern two summers in a row for the Office of Admission, live in New York City as an intern for Columbia University and has even studied abroad for a semester in London, England.
Apart from spending time with her friends and family, Quinci loves to watch movies, eat pizza, drink coffee and go on drives in the countryside. She also enjoys running and is currently working towards a long-term goal of running a half-marathon in all 50 states.
Be sure to say hi if you see Quinci during your visit to DePauw. She loves talking about her experience and getting to know students on their college-search journey.
Education
DePauw University Class of 2019, B.A. in Communication