Rachel Schmidtke
Director of Recruitment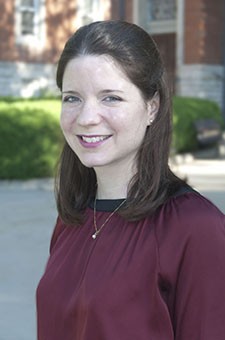 Rachel was born and raised in Byron Center, Michigan. She completed her undergraduate studies at Saint Mary's College (Notre Dame, Ind.), graduating Summa Cum Laude in 2004 with a degree in Music Performance and a minor in Italian. Rachel spent a full year studying abroad in Rome, performed two full-length solo piano recitals, and played the role of Hansel in the opera "Hansel & Gretel."

Rachel chose a small, liberal arts college because she was able to study directly with a music professor, enjoyed studying a variety of classes outside of music itself, and had ample opportunities to give back to the community. She loved the personalized attention and relationships she made along the way.

Before entering the world of admission, Rachel worked for a year as Resident Advisor for Saint Mary's study abroad program based in Rome. She has over nine years of experience in college admissions, including seven years at her alma mater prior to joining the DePauw team in 2012. She is also heavily involved with the Indiana Association of College Admission Counselors, for which she currently serves as chair for the Educational Calendar Committee. Rachel is passionate about helping each student she works with to determine if DePauw is a match with his or her ideal college experience. She truly believes that there is a right "fit" for everyone and enjoys guiding each student (and family!) through the process.

Rachel loves to travel and hopes to add a few more countries to her list as soon as possible. As an avid reader, she tries to keep her Netflix addiction to a minimum. Rachel also continues to feed her passion for music via her beloved Steinway piano and by attending as many concerts as possible, including the fantastic performances offered weekly at DePauw.
Watch and listen as Rachel talks about the application process, the value of a liberal arts education and helping students find their fit at DePauw:
Education
Saint Mary's College, Notre Dame, IN '04, Bachelor of Music Performance, Minor in Italian