Robert "Bobby" Andrews
Vice President for Enrollment Management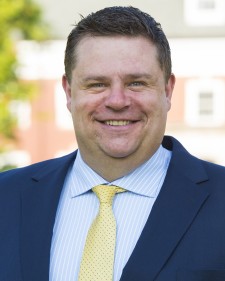 Robert "Bobby" Andrews grew up in Catskill, NY and has always been a firm believer of the college dream. "Earning a college degree is the dream of so many young people and their families," he says. "Working in enrollment management has allowed me to help great institutions find their future alumni and work with families to achieve their dreams."
Bobby earned his bachelor's degree in business administration from Sacred Heart University in Fairfield, CT and his M.B.A. from Southern New Hampshire University. He has an extensive background in higher education administration. He is active in numerous higher education professional organizations including NACAC, MOACAC, SACAC, NEACAC and International ACAC.
In his previous role at Westminster College in Fulton, MO., Bobby championed a college growth strategy and served as a key member of the president's cabinet and senior leadership team. He built an integrated, digital enrollment infrastructure from the ground up, resulting in significant gains to the institution's bottom line including: the largest domestic freshmen class in six years and the fifth largest in the college's history, an increase in the number of prospective student inquiries and applications, an increase in academic credentials of incoming freshmen, and a lower tuition discount rate. Bobby also has experience in coaching baseball, athletic administration, and insurance sales.
Bobby is married to wife, Caitlin, and they have two daughters Elle (5) and Kathryn (2) and a black lab, Hope (12). Life outside the office revolves mostly around family and experiencing life with his wife and children.
Education
Sacred Heart University, Bachelor of Arts: Business Administration
Southern New Hampshire University, Master of Business Administration