Sam Schmelzer '18
Admission Counselor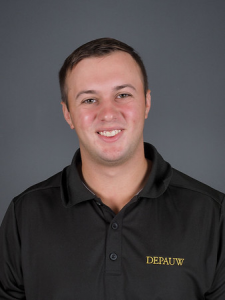 After graduating as part of DePauw's class of 2018, Sam spent a year traveling the country as a Leadership Consultant for Delta Upsilon International Fraternity. In July of 2019, Sam returned to DePauw to join the Admissions Team. A native of Dublin, Ohio and graduate of St. Charles Preparatory School, Sam looked at schools throughout the Midwest and Southeast and ultimately realized that a small liberal arts institution was exactly what he wanted for his college experience.
After meeting a DePauw admissions counselor in the fall of his senior year, he decided to make a trip to campus, where he quickly fell in love with DePauw's picturesque campus, small class sizes, leadership opportunities, and experiential learning outlets. As a student, Sam was an English Writing and History double major and French minor. Outside the classroom, Sam was a member of Delta Upsilon Fraternity, the founder and president of DePauw's club golf team, the president of Phi Alpha Theta Historical Honor Society, and a student DJ at The Fluttering Duck. His fondest memories as a student consisted of hanging out with his DU brothers, forming and running a club sports team, and playing music for students on campus on "Wells Wednesday".
As a counselor, Sam is excited about showing future students the DePauw difference, seeing even more regions of the country, and making an impact in the lives of future Tigers. Outside of work, you might find Sam on the golf course working on his game, in the gym, or locked into his laptop working on his latest story or DJ mix.
Education
DePauw University, '18, Bachelor of Arts: Majors, English (Writing) and History; Minor, French