Sean Cook
Assistant Director of Admission, Music and Creative Arts Specialist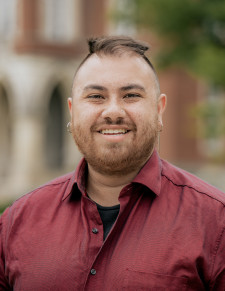 Sean Cook is a graduate of Avon High School in Avon, Indiana. During his time in high school, Sean participated in the "Mighty Avon Marching Black and Gold" and the Avon "World" Indoor Drumline. Through the pageantry arts, Sean was able to perform in organizations such as Bands of America (BOA), Indiana State School Music Association (ISSMA), Indiana Percussion Association (IPA), Winter Guard International (WGI) and the Percussive Arts Society International Conference (PASIC) Drumline Battle. Through all of these performance opportunities, Sean helped contribute to Avon winning 3 BOA Grand National Championships, 2 ISSMA State Championships, 2 IPA State Championships, and 5th and 9th at WGI Finals.
After High School, Indiana State University would be the choice for Sean to study closely with Dr. Jimmy Finnie for both his undergraduate and graduate degrees. While earning his Bachelor's in Music Education and Masters in Percussion Performance, Sean participated in ensembles such as: Wind Ensemble, Percussion Ensemble, Steel Band, Marching Sycamores, Concert Band, and Jazz Combo. Outside of Indiana State, Sean found other performance opportunities such as the High Octane Drumline which is the official Drumline for the Indiana Pacers, Indianapolis 500, and Brickyard 400. Sean has also performed with the Marian University Band.
As an educator, Sean began teaching right after graduating from high school starting at Lincoln High School in Vincennes, Indiana where he was a drumline technician and helped them to reach ISSMA and IPA State Finals. He also taught with the Community School of the Arts (CSA) at Indiana State where he taught private percussion lessons for any age. Also through the CSA, he was the Percussion Technician for "Rock Class" and "Rock Camp". After receiving his Bachelor's, Sean spent three years at Elkhart Central High School and its' two feeder middle schools as the Director of Percussion/Assistant Band Director. During graduate school, Sean was the Director of Percussion for Terre Haute North High School for two years. After graduate school, Sean spent one year as Band Director of Roosevelt Middle School and Director of Percussion for Twin Lakes High School. All of these performance and education accolades have helped Sean to be named an Innovative Percussion Education Endorsed Artist.
After looking at a different direction, Sean found himself being drawn to DePauw University and the position of Music and Creative Arts Specialist. He loves the diversity and support that DePauw offers along with the strong sense of community and networking that is accessible for students. He looks forward to helping students continue their passion and help them realize their goals through the Arts here at DePauw.
When not on campus, Sean enjoys spending time with loved ones and going to EDM concerts. He also is in the gym four times a week training in powerlifting for competitions. You can also find Sean at different sporting events supporting the home teams!
Education
Indiana State University, '21, M.A., Music Performance
Indiana State University, '16, Bachelor of Science, Music Education