Thomas Kneeland-Johnson '14
Assistant Director of Admission, Diversity and Inclusion Specialist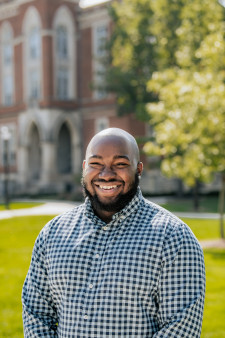 Thomas is originally from the Bay Area of California, but was raised in the Mississippi Delta. He found DePauw while attending the LEDA Scholars Program at Princeton University in 2009, and immediately formed what would be a long-lasting relationship with the admissions team. While a student at DePauw, Thomas participated as a member of X-Cell Step and Dance Team, Association of African-American Students (AAAS), Men of Excellence, Exalt! Gospel Choir, and is a member of Phi Beta Sigma Fraternity, Inc. He graduated in 2014 with a B.A. in English Writing.
Following graduation, Thomas worked at St. Vincent hospital, and then went on to serve at Goodwill Industries of Central and Southern Indiana as a Life Coach and Course Instructor for The Excel Center. Thomas has helped more than 2,000 traditional and non-traditional high school students graduate with Indiana Core 40 Diplomas and Industry-recognized certifications.
When he is not serving with the admissions team, Thomas writes poetry and has published four collections of poetry, one of which has recently become an Amazon bestseller. He uses his poetic platform to encourage social justice, diversity, equity, and inclusion in cities across the United States and beyond. You may occasionally find Thomas playing a piano, writing music, or learning more about different cultures.
Education
DePauw University, '14, Bachelor of Arts: English (Creative Writing)
Indiana Wesleyan University, '21, M.A. Ministry (Worship Arts)