Alicia Cotsoradis
Admission Intern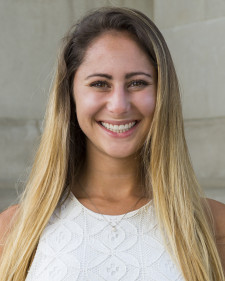 Alicia Cotsoradis is a senior Biochemistry major from Lawrence, KS. She was a First-Year Mentor, Vice President of Finance for Phi Delta Epsilon, TALKS Mentor Volunteer Coordinator, and an active member of Kappa Alpha Theta. This past semester, Alicia spent five months studying abroad in Dunedin, New Zealand. She immersed herself in Kiwi culture, explored the beautiful scenery on multi day hikes, and broadened her educational horizons via classes outside of her biochemistry major.
Alicia chose DePauw University because of the close knit community it provides along side the competitive academics. Alicia has enjoyed the friendships she has formed and the connections she has made, but most importantly, she is grateful for all of the leadership, educational, and career related opportunities DePauw has helped her acquire.

In January, Alicia will travel to Vietnam to study literature alongside DePauw faculty and students for three weeks. She looks forward to exploring the beautiful country and getting out of her comfort zone. Alicia is an Honor Scholar and has begun her thesis where she will complete a full length novel. In addition, she hopes to one day attend medical school while simultaneously working with nonprofits to reform our current criminal justice system. Only through the liberal arts education at DePauw could she explore her three passions of writing, medicine, and criminal justice reform with the full support of faculty and friends.
Education
DePauw University Class of 2018, B.A. in Biochemistry, Minor in Sociology