Amanda Ryan
Director of Enrollment Strategies and Operations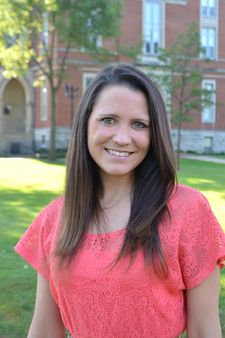 Amanda was born and raised in Glen Allen, Virginia, a small town outside of Richmond where they still have a "Glen Allen Day Parade" and the local service-shop owner doubles as the grand marshal. Growing up, her basketball career landed her a spot on Randolph-Macon College's nationally ranked basketball team in Ashland, VA. During her time as a collegiate athlete, she had the opportunity to play in three NCAA tournaments. After graduation, unsure of what she wanted to do professionally, Amanda attended Virginia Commonwealth University and earned her M.Ed. In 2011, she moved to Chicago where she worked for DePaul University as the Assistant Director of Admission and Communication for three years.
Amanda joined the DePauw Admission team in August, 2015 initially as a Chicago Regional Representative. She was immediately drawn to DePauw University because of her interactions with the incredible people on campus. During her first visit to DePauw, she quickly learned that the faculty, staff and students wholeheartedly believe in the liberal arts experience. They radiate passion for the university and the mutual respect they have for one another is unparalleled. Everyone's dedication to DePauw is instantly noticeable to anyone who visits campus.
Still a Virginia girl at heart, Amanda enjoys getting back home to see her family as often as flight prices will allow her. Her time is split between Greencastle and her home with her husband in Chicago where they live walking distance to Lake Michigan. Outside of beach days on the lake, Amanda and her husband enjoy binge watching Netflix during the brutal Midwest winters and trying as many different restaurants in the city as possible. Still an athlete through and through, Amanda gets her fix through participating in half-marathons and tennis. Though she has adopted the Cubs as her second favorite MLB team, Amanda will always be a Boston sports fan first.
Education
Randolph-Macon College, '09, Bachelor of Arts: Political Science
Virginia Commonwealth University, '11, M.Ed