Ellie Locke
Admission Intern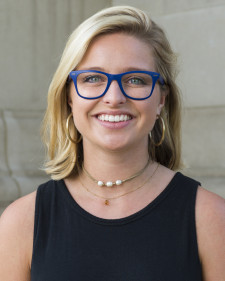 Ellie Locke is a senior communication major at DePauw University. She is from Columbia, SC. She chose DePauw University after her first campus visit after shadowing a class because she found herself wanting to engage in the class discussions that day. DePauw's classroom conversations expanded Ellie's mindset, challenged her beliefs, and helped find her own voice. Ellie wanted to strengthen the life skill of critical thinking, make lifelong friends along the way, and of course to eat all the garlic cheese burgers she wanted from the infamous campus restaurant, Marvin's.
Thanks to DePauw, Ellie was able to be active in and outside the classroom. She is a member of Kappa Alpha Theta sorority. She was involved in all forms of student media; such as D3TV (television), WGRE (radio), and The DePauw (newspaper). With this experience and DePauw's strong alumni network, Ellie was prepared to do a spring semester internship for a marketing agency in Fort Worth, TX. All this experience led her to work for an Omnicom advertising agency in Dallas, TX this past summer where she was a media intern, focusing on digital media planning for notable brands that most people encounter on a daily basis. Ellie is currently a senior intern for DePauw Admissions working closely with DePauw's digital media and strategic communications. During Ellie's time at DePauw, she made sure to take advantage of Winter Terms because she knew she wouldn't get these amazing opportunities elsewhere. Ellie studied in Capetown, South Africa to study the apartheid and the life of Nelson Mandela. She brought that experience back with me in DePauw classroom discussions, like creative writing and sociology classes.
Ellie is not fearful for her future after graduation because DePauw has fully prepared her to take the next steps in life, making this an easier transition for wherever the world takes her. She is confident that she will continue her digital media profession and look forward to seeing how she will improve a brand or company.
Education
DePauw University Class of 2018; B.A. in Communication