Leopoldo "Polo" Burguete
Admission Intern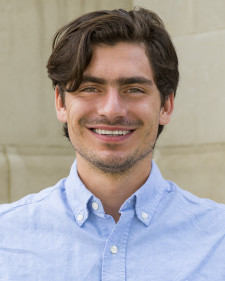 Leopoldo "Polo" Burguete is an avid runner and came to DePauw because after meeting the cross country team and visiting the campus, he saw an opportunity to grow as a student and as an athlete. Originally planning to major in Economics, Polo chose to do an interdisciplinary major in urban studies, taking advantage of DePauw's broad curricula; as well as a conventional major in French language. He's originally from Mexico City, Mexico, but after having gone to boarding school and college in Indiana, he sometimes considers himself an "adoptive" Hoosier.
Polo is the captain of the cross country team, has conducted research in Mexico City alongside DePauw faculty, worked as a Hillman intern for the Prindle Institute for Ethics, and was a DJ on WGRE under the pseudonym DJ Leo. When not in class or at practice, Polo spends a lot of his time at the Roy O. West library doing schoolwork.
In a year's time, Polo seeks to begin his professional career and is exploring different opportunities in a variety of industries. Polo has worked for Cummins Inc. as an intern for two consecutive summers: first in Minneapolis, MN and then in Columbus, IN. He has also worked for Congressman Grijalva as an outreach intern, serving the constituents of Arizona's third congressional district, while enrolled in Earlham College's Border Studies Program in Tucson, Arizona.
Education
DePauw University Class of 2018, B.A. in Urban Studies and French