Lynn Maloney
Associate Director of Admission
California Regional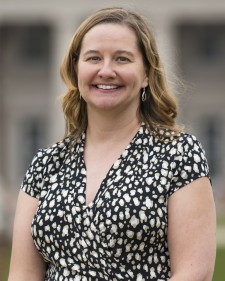 Working for DePauw University is a dream come true for Lynn. Her first visit to DePauw in her junior year of high school opened her eyes to a campus that looked like what she had imagined a college to be, and each return visit reminded her that a small school meant she would be remembered . . . by name. As a psychology major at DePauw, she was still able to explore areas of interest such as Spanish, geology and art history. She discovered her love of college admission while working as student tour guide, summer intern and senior intern. Lynn was destined to work for the DePauw Admission Office.
Upon graduation, Lynn wanted to challenge herself and learn more about the higher education system. She worked as an admission counselor for two universities in Ohio before deciding to get her Master's in School Counseling from Butler University. Lynn worked as a high school college counselor at Cathedral High School in Indianapolis for eight years, and then she and her husband moved to California where she spent a year as an independent college counselor.
Who would have thought that moving to California would be what ultimately brought Lynn back to her alma mater? Lynn joined the admission team in 2016 as a regionally based admission counselor in southern California. All the knowledge she gained over her career working with students throughout the admission process combined with her deep love for DePauw gives her a unique perspective on the liberal arts experience, which she is eager to share with students on the west coast.
In their free time, Lynn and her husband enjoy exploring the beauty of their new home state, taste-testing guacamole at as many restaurants as possible and spoiling their cats, Meredith and Mickey.
Listen to Lynn talk about her love for DePauw and why she loves being able to help students find the perfect college fit!
Education
DePauw University, '99, Bachelor of Arts: Psychology
Butler University, '07, Masters of Education: School Counseling