Zachary George
Associate Director of Admission
Chicago Regional Representative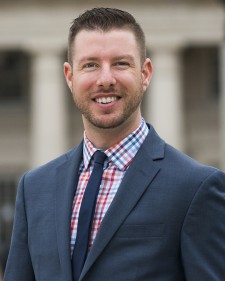 Zachary George (Zak) was born and raised in the southwest suburbs of Chicago, and went to Lincoln-Way Central High School. He spent a few years away from home, attending Augustana College and graduating with a Bachelors of Arts, with a major in Music Education. Realizing he wanted to work in higher education, and not music education, he began his career working for small liberal arts institutions in the Midwest. Most recently, Zak worked in Admission at DePaul University in Chicago, but had a desire to get back to his roots of working more intimately with students on their college search process.
He joined the DePauw team in 2016 because the institution embodied and empowered students to have a well-rounded, diverse, international and personal college experience. Greencastle is the perfect environment to become a leader, a performer, an athlete, an activist, a scholar, a brother or sister, and a friend, all at the same time. No other college has students as involved, and as passionate about their college experiences as DePauw does. He's confident that all it will take is one visit to campus to capture the special nature of DePauw.
Zak is lucky enough to still call Chicago home, as he works with students from the Chicagoland area as they discover all of the joys and opportunities of Greencastle, and DePauw, specifically. When Zak is not driving around Chicago working with students, he can be found running through Chicago in his fourth Chicago Marathon, or performing through Chicago as an active performer. He has an absurd collection of rubber ducks that have been collected from previous students, staff, family and friends from all over the world (180 of them to date).
Education
Augustana College (IL), '08, Bachelor of Arts: Music Education