Seymour Hersh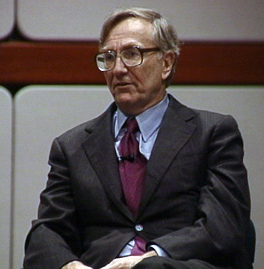 December 9, 1997, Greencastle, Ind. - There was a "rough justice" to the assassination of President John F. Kennedy, Pulitzer Prize-winner Seymour M. Hersh noted tonight at DePauw University. With information that JFK may have been plotting to kill Cuba's Fidel Castro and other leaders, "there's a horrible irony" to the slaying of the president in November 1963, he said.
Hersh, investigative journalist and author of the current best-selling and controversial book, The Dark Side of Camelot, discussed "An End to the Kennedy Myth" in an event presented by the Timothy and Sharon Ubben Lecture Series. Moderated by Ken Bode, John D. Hughes University Professor and director of DePauw's Center for Contemporary Media, the program took place in Watson Forum.
In his new book, Hersh provides details about the alleged Kennedy family ties to organized crime and tales of marital infidelity, while also profiling a president "whose personal weaknesses limited his ability to carry out his duties as president." Hersh says that Kennedy's personal recklessness ultimately put a nation at risk.
Why are these revelations seeing light some 35 years after the fact? "I don't think everybody asked the right questions at the right time," Hersh told his DePauw audience. "I also think, in fairness, Jacqueline Kennedy died, and some people talked to me after she died," including Secret Service agents who worked closely with President Kennedy. "I don't think they would have talked as candidly as they did until she had died."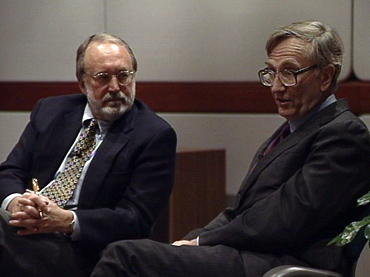 Hersh added, "This country loves beauty, and John F. Kennedy was an engaging man ... We like beauty, we like royalty -- there was a sense that he and Jackie were not just the president and the first lady, they were the king and queen ... So all of those, I think, played a role" in keeping some details of Kennedy's life in the dark for so long.
A Pulitzer Prize-winning investigative reporter, Hersh has written six books, including: The Price of Power: Kissinger in the Nixon White House, winner of the National Book Critics Circle Award and the Los Angeles Times Book Award; The Target Is Destroyed: What Really Happened to Flight 007 and What America Knew About It and The Samson Option: Israel's Nuclear Arsenal and America's Foreign Policy.
In 1969, as a freelance journalist, Hersh wrote the first account of the My Lai massacre in South Vietnam. During the 1970s, he worked at the New York Times in Washington and New York, and he has rejoined the paper twice on special assignment. He has won more than a dozen major journalism prizes, including the 1970 Pulitzer Prize for International Reporting and four George Polk Awards.