'Jeopardy!' champ Jennings exhorts Ubben audience to be curious, learn something new every day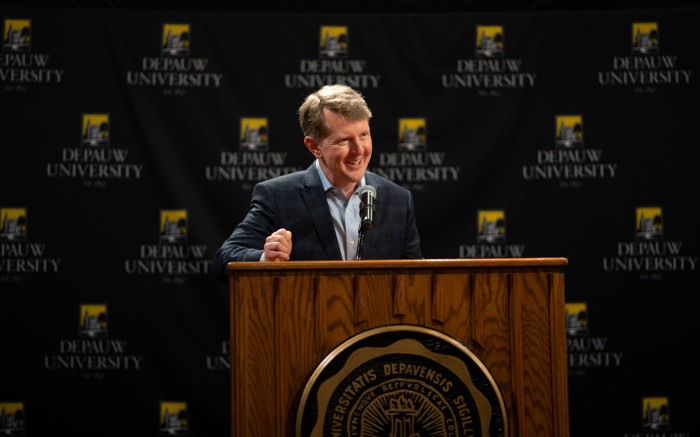 "It's important on 'Jeopardy!' to answer in the form of a question, but I think it's important to live your life in the form of a question, as well," Ken Jennings, the "Greatest of All Time" on the popular television game show, told an audience at DePauw University Tuesday night.
He called on the crowd of about 800 to be "always inquisitive, always engaged in the world around you, learning no matter where you are. … Will you do that for me? Will you try to learn something new every day? Will you think about that? Live your life in the form of a question; that's my challenge to you."
Jennings delivered a Timothy and Sharon Ubben Lecture, "Winning Where It Matters Most," in Kresge Auditorium a month after he won $1 million and the title of the show's Greatest Player of All Time in a four-episode "Jeopardy!" tournament.
Jennings holds the program's longest winning streak (74 consecutive games), highest regular-season winnings ($2,520,700) and highest average correct responses (35.9) records in the show's 56-year history. His total earnings on "Jeopardy!" are $4,522,700.
"If there's a secret to my success, I'd have to say it's preparation," Jennings said. He described the frenetic pace of being on the game show's set. Five segments are taped in one day and, when a contestant first appears in the studio under lights, "trivia is whizzing at you like artillery," he recalled. "There is nothing to prepare you for how fast-paced 'Jeopardy!' feels when you're behind the podium."
Jennings grew up in South Korea, where he was hooked on game shows he watched on the Armed Forces Network. He was an English major and computer science minor at Brigham Young University, and worked as a computer programmer when he won an audition to appear on "Jeopardy!".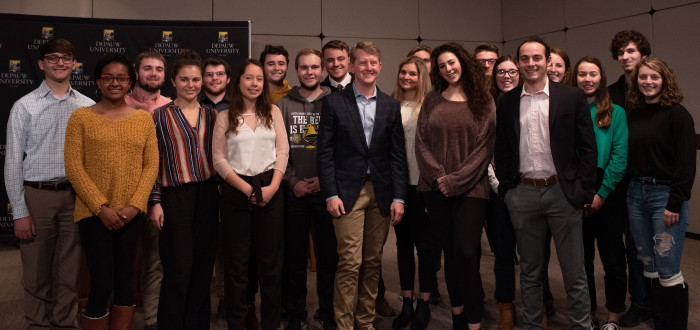 (Jennings met with media fellows and English and computer science students.)
To prepare for his big moment, Jennings said, he watched the show daily and stood behind a recliner, which was about the height of the game show's podium, and held a child's toy in his hand to simulate the buzzer.
"I did find that when I walked on the set the first time the podium was about the height of my La-Z-Boy at home, and the buzzer was about the diameter of my kid's Fisher-Price toy."
What he wasn't prepared for was the jolt of having 61 answers being delivered over 21 minutes under the glare of studio lights. "The only time I've ever had an experience like that was skydiving. Literally, the only other time there's been that much input – your brain just can't keep up. But because I had prepared for that, because I had kind of gotten myself into the position of it – visualized it, role-played it – I could do it on muscle memory and I escaped with a win in that first game and then, again, 73 more times."
In a speech filled with anecdotes, humor and life lessons, Jennings stressed the power of preparation. "You're preparing for one reason alone: to feel like you have, to feel like you did all you could and now you have the skills to do it. And I think that's true of anything in life – for the big game, for the job interview, for the test, the first date, whatever it is. The way to prepare is not to study up on what, but to study up on how."
Jennings said he's often asked how he knows so much trivia. "People want there to be a secret," he said. The game show champion says he has met hundreds "Jeopardy!" players, and they are all curious.
"They just pay attention to things, and they pay attention to everything," he said. "Most of us specialize. Most of us think, 'Well, I'm interested in American history, but I don't know much about African history; or, I like basketball but I don't like hockey. I like geography but I don't know much about geology. 'Jeopardy!' people don't think like that. They are omnivores when it comes to information; they believe that everything is a little bit interesting. And that is the only secret. Because if you think something is interesting it will stick in your head, and you don't even have to try."
Jennings continued: "If you could find a way to convince yourself that everything was equally interesting instead of putting yourself in these little silos of specialization, you would immediately unlock this magical power to remember anything. … It is possible to live life in a different way – to be curious, to be inquisitive. That's the secret."But in an age where we can look up information on a mobile device, Jennings worries that we're losing the skills that make our minds collect data. "The trivia nerd at the office used to be a really important resource," he said. "And as soon as computers can pull out answers for us, do we even value the stuff we know anymore?"
Preparation and curiosity aren't enough, Jennings said, citing luck as another key to his success. Jennings said he reviewed the videotapes of his winning streak and noted, "there are 12 games where, if one question falls differently, I lose." His record run "has nothing to do with my skill as a player; it has everything to do with me pushing the laws of probability to the breaking point."
Jennings also discussed "the other kinds of things that had to go right in my life for me to land on 'Jeopardy!' … I had two very bright parents – (a mother who) read to us every night religiously (and) my dad was an attorney and sort of a super-brilliant guy who would always come home from work and do the Jumble, the crossword in paper, with us ...
"This is the kind of thing that people call privilege, and I hope that doesn't turn you off for ideological reasons, because I'm speaking of a very specific kind of 'Jeopardy!' privilege. I grew up in a way that I had educational advantage where all these things were super easy for me and I never had to think about it, because that's a definition of privilege."
Jennings was a young parent who was dissatisfied with his job when he first appeared on "Jeopardy!" 16 years ago and, "through sheer force of luck, I went on a game show and it changed my life," he told the DePauw audience. "I gave up too early on the thing that I was passionate about. I never had a guidance counselor say, 'You're good at trivia. Maybe you should do this or this or that.' And they're not wrong – being an ex-game show contestant is not much of a job for most people. But I should have tried harder to find something where my passion and my talent paid off."
Speaking especially to students, Jennings said, "They are sacred things – the talents you have, the passions you have. Please do not neglect those. If you remember anything I say tonight, think about the thing that obsesses you and realize that obsession is destiny. Do not neglect that."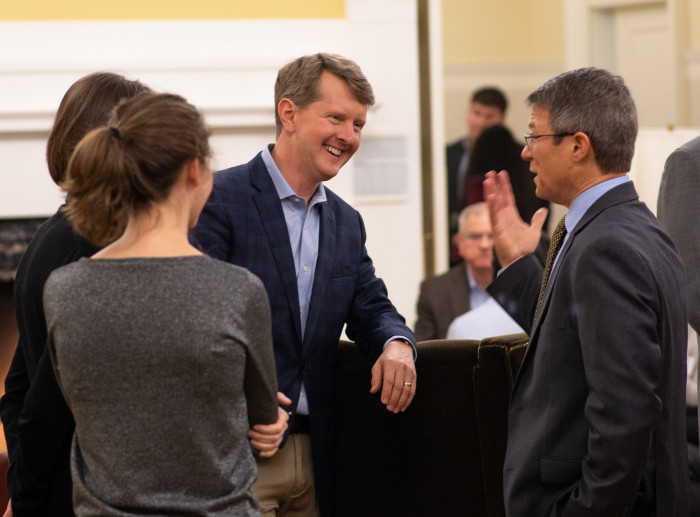 While at DePauw, Jennings participated in a news conference, engaged with a small group of students in an afternoon question-and-answer session and mingled with students, alumni, faculty and staff at a pre-speech reception.
The author of 12 books, Jennings pointed out during his lecture that "I found out this morning that my first editor, my first book editor at Simon & Schuster, is a DePauw alumnus, Brant Rumble. I asked him, what do you do, what does one do in Greencastle? And he says, 'You've gotta go to Marvin's and get the GCB.' So that's where I had lunch. I went to Marvin's and had the garlic cheeseburger; I had the garlic fries as well. I apologize to those of you in the front row," he added, to laughter from the audience.
Stressing the importance of lifelong education, Jennings noted, "Learning is an absolute good. We are, all of us, the sum of the things that we've learned. That's what makes us people. That's what makes you you, the things that are in your head."
This was the second Ubben Lecture for the 2019-20 academic year and the 115th since the series began in 1986. Former Secretary of State Condoleezza Rice spoke at DePauw in October and Brad Stevens, head coach of the NBA's Boston Celtics and a 1999 graduate of DePauw, is scheduled to speak March 9.
Established in 1986 through the support of 1958 DePauw graduates Timothy H. and Sharon Williams Ubben, the lecture series was designed to "bring the world to Greencastle." See a complete roster of guests here.
View video clips of Jennings's appearance here.
Whether we are writing about the intellectual challenge of our classrooms, a campus life that builds leadership, incredible faculty achievements or the seemingly endless stories of alumni success, we think DePauw has some fun stories to tell.

News media: For help with a story, contact:

Bob Weaver, Senior Director of Communications.
bobweaver@depauw.edu.