WNBA star urges others to pursue greatness because they want to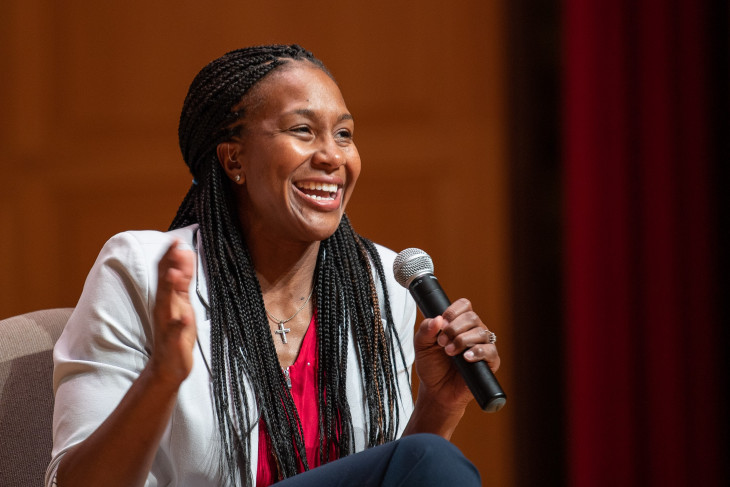 "Dedicate yourself to being great," Tamika Catchings, a four-time Olympic gold medalist and Naismith Memorial Basketball Hall of Fame inductee, told a DePauw University Nov. 22.  "And every day, dedicate yourself to becoming great. It's a process. It takes work, but it will happen if you are determined."
Catchings, a 10-time WNBA All-Star, is the general manager and vice president of basketball operations for the Indiana Fever women's basketball team, as well as an entrepreneur, author and philanthropist. She was at DePauw to deliver a Timothy and Sharon Ubben Lecture, "Your Star is Within Reach" in a session was moderated by Kris Huffman, DePauw's two-time national champion women's coach.
Her visit to DePauw included separate sessions with the Tiger women's and men's basketball teams and a reception with students and alumni.
Catchings, the daughter of NBA player Harvey Catchings, was born in New Jersey into a family that moved a lot, and where basketball was always a backdrop. 
"We were uber competitive," she told the audience of 575 in Kresge Auditorium. "Even to this day I want to be first in everything. I want to be first to the door, I want to be first to press the elevator button."
Her transformation from self-described "tomboy" to basketball legend was not without struggles.
"I was born with a hearing disability; my mom and dad found out when I was three years old.  And for me, as I grew up I really didn't know what that meant," Catchings said. She got her first set of hearing aids at age 5, "and even at that point I had no idea what that really meant. But then we moved overseas and we lived in Italy for a year, came back when I was in second grade and that was the first time that I knew and that I realized that I was different. Every single day I went to school and got made fun of for the way that I talked, the hearing aids I had to wear, for just being different, for being taller. You name it, I got made fun of."
Catchings threw away her hearings aids and vowed to herself that she would sit in the front row of every class she attended, stay after to talk with the teacher and learn to read lips.
"I literally had to figure out how to be successful and get good grades, because my parents wouldn't let us play if we didn't have good grades. So having to adjust … I think the tenacity really came from that."
A national champion at the University of Tennessee, Catchings was the No. 3 draft pick of the Fever. She was named the league's Rookie of the Year in 2002 and was a five-time WNBA Defensive Player of the Year. She led the Fever to the WNBA title in 2012. Catchings was the fastest player in league history to reach 2,000 career points, 1,000 rebounds, 400 assists and 30 steals. 
Teammates and mentors have been a key part of her success, Catchings said, pointing to legendary Lady Vols coach Pat Summitt, who, among other things, convinced her to begin wearing hearing aids again. 
"One day your story will impact thousands, maybe millions of people," Catchings recalled Summitt telling her. "I think you need to get back into not only wearing a hearing aid, but going to speech therapy.
"I'm proud to say, and that was years ago, that now we have the Tamika Catchings Scholarship and we the Amplification Fund for kids who need hearing aids – we provide money for them … and the scholarship provides money for those studying audiology, speech pathology, anything that has to do with that."
In 2004, Catchings created the Catch the Stars Foundation, which empowers young people through programs that promote fitness, literacy and youth development.
Catchings said that excellence is a choice, and must be accompanied by hard work and a belief in yourself.
"You have people, and I know we all have 'em, that tell you you'll never be great, you'll never do this, you can't do that, you're not good enough, you can't talk – like, I've heard it all," she said. "And I think it really became something, that inner drive of proving people wrong. But over time it really got to a point where it's like, 'But I can do this.' So it's not about proving somebody wrong … I don't need to prove to you I can do it; I can do it. And not only can I do it, I want to excel at it.  And not to get accolades and not to get all these awards, not for any of that. Just so that at the end of the day I can walk away and say 'I did that because I wanted to do it, not because someone told me I had to do it, but because I wanted to do it.'"
Established in 1986 through the support of 1958 DePauw graduates Timothy H. and Sharon Williams Ubben, the lecture series was designed to "bring the world to Greencastle." It has presented 116 events over the past 35 years. Previous Ubben lecturers have included Malala Yousafzai, Margaret Thatcher, Bill Clinton, Spike Lee, Mikhail Gorbachev, Colin Powell, Jane Goodall, Tony Blair, Leslie Odom Jr. and Jimmy Kimmel. See a complete roster of guests here.
Whether we are writing about the intellectual challenge of our classrooms, a campus life that builds leadership, incredible faculty achievements or the seemingly endless stories of alumni success, we think DePauw has some fun stories to tell.

News media: For help with a story, contact:

Bob Weaver, Senior Director of Communications.
bobweaver@depauw.edu.