The wait is over! Roy O. West Library will reopen Monday, January 30, 2023 following an 18-month renovation and expansion. The project added a two story reading room with a new lower level entrance off of Indiana Street. Archives & Special Collections has been relocated to the lower level with space to house all of their collections. Café Roy has moved to the lower level and been expanded to include additional seating. The books have returned to shelves on the second and third floors as well as new compact shelving in the lower level. There are a variety of seating options in a mix of spaces that support group work and individual study.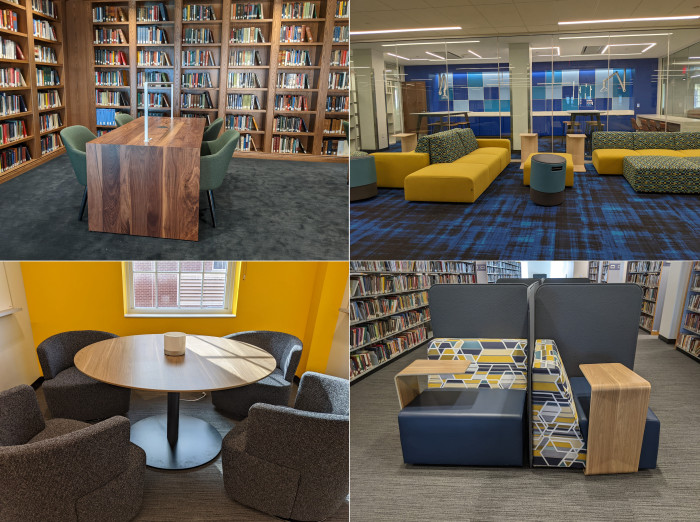 DePauw Libraries welcome students, staff, and faculty to celebrate the reopening of Roy O. West Library with a week of festivities.
Monday, January 30 - Sunday, February 5, 2023
Doors will open at 8 a.m. January 30, 2023 and then return to our usual semester hours.
Café Roy will provide a variety of drink samples on Monday, January 30 at 9 a.m. and 2 p.m. The café will open for full service early in the semester.
Guided tours will leave from The Desk at noon and 4 each day. A self guided option will also be available.
Snap a pic at photo ops throughout the building, and tag @DePauwLibraries on Insta.
Find your new favorite study spot.
Browse the book stacks.
If you have questions about our opening week activities email us at library@depauw.edu. We look forward to seeing you!