The Global Music Experience at DePauw provides year-round programming focused on musical traditions from different cultures. Each year, DePauw students, faculty, and staff delve into the culture and artistry of a different country or area of the world, exploring that region's musics through lectures, experiential learning opportunities, concerts, and other connected events. We host renowned experts to perform music and dance, share their scholarships, and teach a wide range of students about their musical traditions. The GME welcomes all members of the DePauw community, regardless of area of study, and involves collaborators across campus. 
Schedule of Events
Dr. Matt Rahaim
Wednesday, Sep. 28, Student Convocation Hour 10:20 am - 11:20 am: Voices of South Asia
Wednesday, Sep. 28, 6:30 pm Instrumental Workshop, 7:30 pm Vocal Workshop at Thompson Recital Hall
Matthew Rahaim is Professor of Ethnomusicology in the Creative Studies division of the University of Minnesota School of Music. He is a Hindustani vocalist in the Gwalior tradition (disciple of Laxman Krishnarao Pandit), an improvising analog synthesist, and a composer of conceptual performance pieces. Matthew is the author of Ways of Voice: Vocal Striving and Moral Contestation in North India and Beyond (2021) and Musicking Bodies: Gesture and Voice in Hindustani Music (2012). Recent essays include "Object, Person, Machine, or What: Practical Ontologies of Voice" (2019) and "Not Just One, Not Just Now: Voices in Relation" (2021.)
Dr. Vivek Virani
Wednesday, Oct. 26, Student Convocation Hour 10:20 am - 11:20 am: Lecture/Performance
Dr. Vivek Virani is Assistant Professor of Ethnomusicology and Music Theory at the University of North Texas College of Music. His research explores connections between music and spirituality in diverse religious and cultural traditions, with a particular focus on religious music's role in the constructions of community, nation, and self. His current book project, Songs of the Unknowable Country, explores how songs of Kabir and other mystic poet-saints performed by folk musicians are used to negotiate issues of culture, religion, and nation in India and abroad. (pictured above)
Sandeep Das and The HUM Ensemble
Friday, April 7
7:30 pm Communiversity - The Raga Road to Bollywood by Sandeep Das and Rajib Karmakar
Saturday, April 8
10:00 am at GCPA 1115 - Masterclass: A Musical Journey Through India by Sandeep Das with The HUM Ensemble
6:00 pm at Kresge Auditorium - Sandeep Das and the HUM Ensemble concert
7:30 pm at Union Ballroom - Mock Shaadi by SASS
Grammy-winning Tabla maestro Sandeep Das brings the renowned HUM Ensemble to DePauw for Delhi to Istanbul, a musical celebration of the shared heritage of India and Turkey. Described as a "roadmap for irresistible aural adventures" by Downbeat Magazine, its breathtaking combination of brilliant artistry, innovative collaboration, and deep-rooted tradition makes for an unforgettable journey through these two megaliths of the ancient world.
Delhi to Istanbul is the third initiative in Das' socially-driven project series, Transcending Borders One Note at a Time. TBONT brings together masters of artistic traditions from across the globe to produce new works that are uniquely innovative yet deeply rooted in their original cultural heritage, then takes them beyond the concert hall and into local communities through a variety of outreach activities.
The Courtyard Dancers (Pallabi Chakravorti, dance lecturer, and Aqeel Bhatti, tabla musician)
Wednesday, April 12, Student Convocation Hour 10:20 am - 11:20 am
Wednesday, April 12, 6:30 pm - 8:30 pm: Dance workshop
Previous Global Music Experiences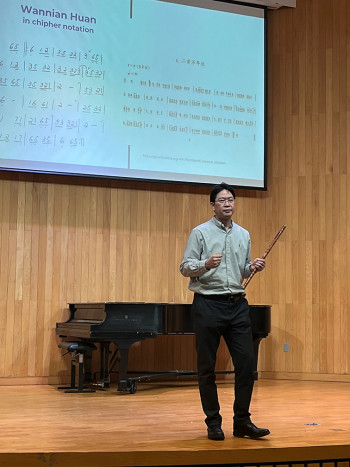 To celebrate and learn about Chinese music, in 2021-2022, we welcomed three renowned expert artist-teachers to campus for a series of participatory events and concerts. Po-Wei Weng (pictured), an ethnomusicologist, performer, and expert on Peking Opera, visited DePauw twice, presenting lectures, workshops, and classroom visits that reached all School of Music students. He worked with the Music for the Stage class as they developed and performed a contemporary American adaptation of the Peking Opera tradition. The virtuoso musicians Gao Hong, pipa, and Issam Rafea, oud performed an improvisatory recital together and shared their art with students in a number of classroom visits.