Audiences welcomed back for 2021-22 concert season; tickets available Aug. 16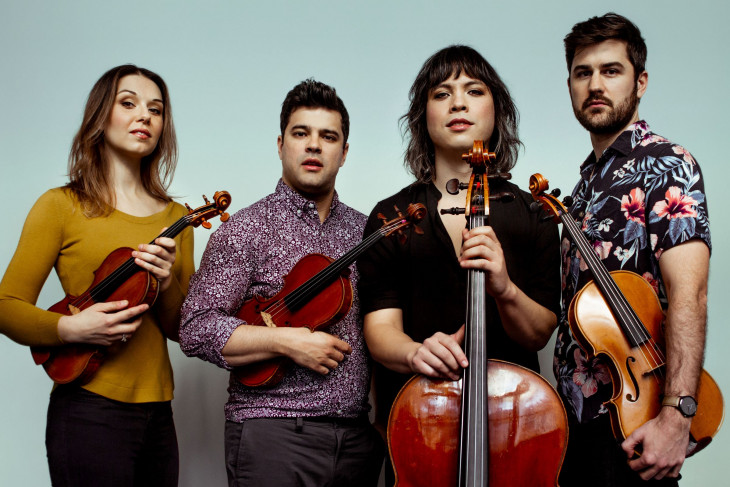 Audiences will be welcomed back at DePauw School of Music concerts, productions and guest artist performances this fall.
The season will feature the Green Guest Artist Concert Series, Music of the 21st Century, a musical, an opera and Communiversity events. Highlights include the Attacca Quartet and Caroline Shaw, The Count Basie Orchestra with Diane Schuur, The Baltimore Consort, Eighth Blackbird and Rhiannon Giddens. The season also will introduce the Global Music Experience, which will focus on China in 2021-22.
Tickets to the Green Guest Artist Concert Series, as well as the September Communiversity concert with guest musicians Arcomusical, will be available at noon Aug. 16. Tickets for the Green Guest Concerts are $20 for general admission and free for youths, students and seniors. This year, the Communiversity concert is free, but seating is limited. Tickets are available at depauw.edu/music.
"We are excited to return to live events this year," said Steven Linville, director of productions. "After more than a year of virtual events, we look forward to reuniting with our audience members and sharing music together. And this season is the perfect time. We have a number of amazing guests and events. There's something that everyone can enjoy. The timing also allows us to reopen the Community Music School with new offerings and an updated structure."
GREEN GUEST ARTISTS
ChamberQUEER Concert with Andrew Yee and Caroline Shaw (Attacca Quartet)
Oct. 13 at 7:30 p.m. at Music on the Square
Attacca Quartet and Caroline Shaw
Oct. 14 at 7:30 p.m. at Kresge Auditorium
Grammy Award-winning string quartet Attacca Quartet glides between 18th-century music of and a living composer repertoire.
The Count Basie Orchestra with Diane Schuur, directed by Scotty Barnhart
Nov. 12 at 7:30 p.m. at Kresge Auditorium
The orchestra, winner of 18 Grammy Awards, has appeared in movies and television shows and at every major jazz festival in the world.
The Baltimore Consort
Feb. 4 at 7:30 p.m. at Kresge Auditorium
The consort was journeys through the popular music of Elizabethan England, Scotland, France, Germany, Italy and Spain, as well as into the traditional music of today that is rooted in earlier times.
Eighth Blackbird
April 22 at 7:30 p.m. at Kresge Auditorium
Eighth Blackbird has won four Grammy Awards for Best Small Ensemble/Chamber Music Performance.
Rhiannon Giddens
April 28 at 7:30 p.m. at Kresge Auditorium
Co-founder of the Grammy Award-winning Carolina Chocolate Drop, Giddens has performed for the Obamas at the White House; served as a Carnegie Hall Perspectives curator; and received an inaugural Legacy of Americana Award from Nashville's National Museum of African American History. Named artistic director of Silkroad in 2020, Giddens references her European-American, African-American and Native-American ancestry to inspire her music.
ADDITIONAL GUESTS
Broadway Guest Master Class: Liz Callaway
Sept. 19 at 6 p.m. at Moore Theatre
Tony-nominated and Emmy Award-winning actress, singer and recording artist Liz Callaway will present a Broadway master class. She will work with the DePauw musical cast, offering advice and guidance for the September production.
Communiversity Concert: Arcomusical
Sept. 21 at 7:30 p.m. at Music on the Square
Projeto Arcomusical is a world music sextet reimagining the Afro-Brazilian berimbau through  chamber music.
Music of the 21st Century: Daniel Bernard Roumain
Daniel Bernard Roumain will be on campus Feb. 14-18 as the composer in residence for the Music of the 21st Century festival. Concerts are set for Feb. 17 and 18.
Global Music Experience: China
Gao Hong, pipa, and Issam Rafea, oud
Sept. 27 at 7:30 p.m. at Thompson Recital Hall
Presented by the School of Music and Performing Arts Series
The Global Music Experience is a year-round program focused on musical traditions from various cultures, exploring each region's music through lectures, experiential learning opportunities, concerts, performances, workshops, class visits and other events throughout the season.
 STAGE PRODUCTIONS
DePauw Musical: "The Spitfire Grill"
Sept. 23-25 at 7:30 p.m. and Sept. 26 at 3 p.m. at Moore Theatre
Based on the hit 1996 film of the same name, "The Spitfire Grill" follows Percy Talbot, who travels to the small town of Gilead, Wisconsin, where she finds new meaning to her life and helps others do the same. Featuring a gorgeous, soulful score, "The Spitfire Grill" is a heartwarming and inspirational musical tale of redemption, perseverance and family.
Presented by the Department of Communication and Theatre and the School of Music.
DePauw Opera: "Dido and Aeneas" and "Orfeo ed Euridice "
March 3-5 at 7:30 p.m. and March 6 at 2 p.m. at Kresge Auditorium
Two operas grounded in Greek mythology: "Dido and Aeneas" is a story of love lost, while "Orfeo ed Euridice" tells of love in extreme circumstance.
The concert season is made possible through the support of the Arts Midwest GIG Fund, Arts Illiana, the Indiana Arts Commission, the National Endowment for the Arts, Chamber Music America, the Putnam County Visitors' Bureau and Judson '74 and Joyce Taglauer Green '75.
To learn more, visit depauw.edu/music or email musicmarketing@depauw.edu.
Whether we are writing about the intellectual challenge of our classrooms, a campus life that builds leadership, incredible faculty achievements or the seemingly endless stories of alumni success, we think DePauw has some fun stories to tell.

News media: For help with a story, contact:

Sarah Steinkamp, Vice President for Communications and Strategy and Chief of Staff.
sarahsteinkamp@depauw.edu.