Awards: Faculty members honored for teaching, student and colleague support
Five distinguished faculty members have won prestigious DePauw University awards for their contributions to teaching, the university and the community.
Two professors won the Mr. and Mrs. Fred C. Tucker Jr. Distinguished Career Award, which recognizes a senior faculty member who has made notable contributions to DePauw through a commitment to students, teaching excellence, one's chosen discipline and university service. The winners were psychology professor Kevin Moore and Sunil Sahu, the Leonard E. and Mary B. Howell professor of political science.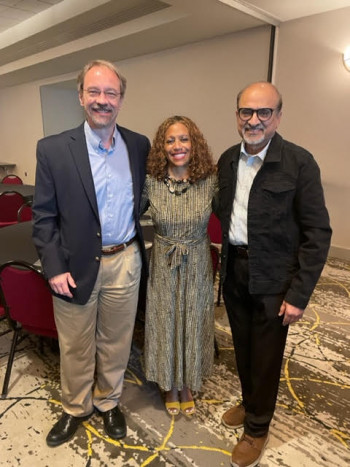 President Lori White made the Tucker awards, noting that nominators described Moore's kindness, gentle demeanor and encouraging words, saying he is "calm, erudite and compassionate" and is a "devoted and intellectually demanding teacher" whom students love. He directed the Honor Scholar Program for 12 years, "devoting countless hours … to the many students and prospective students who poured in and out" of his office. His work as the longest-serving instructor in his department and helped psychology become "a thriving innovative major that has successfully attracted and retained some of our strongest students." (Photo by Deepa Prakash. L to r: Moore, White and Sahu.)
Sahu, former department chair, is a "dedicated leader" who exhibits "extraordinary friendship, support and mentorship," a nominator said. He "empowers students to take ownership of their learning, to think beyond the textbook and to embrace the connections between the classroom and our modern world. . . . It takes a very special educator – one with charisma, wit and superior intelligence – to leave such a lasting impression on former students years out from graduating."
Alicia Suarez, the Otto L. Sonder professor of sociology and chair of the Sociology and Anthropology Department, received the Oxnam Award, which recognizes a mid-career faculty member who has made significant contributions to the university, the academic or professional world, the Greencastle community or the wider arena of civic contributions through social outreach or social justice.
Suarez has directed the Women's Gender and Sexuality Studies program and served as a member of several committees, said Dave Berque, vice president for academic affairs. She has been the faculty adviser for ¡Feminista! and advised students on their honor scholar theses and in the Global Health program. She is board president of the Indiana Recovery Alliance and performs "harm reduction" work, educating marginalized people in Bloomington about safe practices and exchanging needles.
Derek Ford, associate professor of education studies, won the Edwin L. Minar Jr. Award, which recognizes the faculty member who has demonstrated an exceptional record of scholarly and creative work suggestive of the achievements of its namesake, a professor of classical studies who taught at DePauw 1951-80 and wrote almost 50 reviews of major works in Greek philosophy and published 10 articles on the same subject.
Ford co-authors peer-reviewed papers with his students and has facilitated the publication of papers written solely by students, Bridget Gourley, dean of faculty, said. Since 2016, he has been invited to present nearly 30 times in the United States and several other countries. He has organized two winter terms with the Korea University in Tokyo and "has enriched our intellectual and social life particularly relating to issues of racism and oppression."
Communication professor Geoff Klinger was given the United Methodist Exemplary Teaching Award posthumously. The award is given jointly by the university and the church to faculty members who exemplify excellence in teaching; civility and concern for students and colleagues; commitment to value-centered education; and service to students, the institution and the community. Klinger died in May 2021.
A student who nominated Klinger for the award wrote that he was "a rigorous and respectful instructor who challenged students to meet the demands of public life head-on" and whose courses "were always fresh with topics 'ripped from the headlines.' His students always knew the pragmatic and vital civic implications of what he taught."
Whether we are writing about the intellectual challenge of our classrooms, a campus life that builds leadership, incredible faculty achievements or the seemingly endless stories of alumni success, we think DePauw has some fun stories to tell.

101 E. Seminary St.
Greencastle, IN, 46135-0037
(765) 658-4416

News and Media